Press release
December 5, 2012
Health
Thousands of stroke patients across the UK will now benefit from a new sign system for hearing people, that uses only one hand.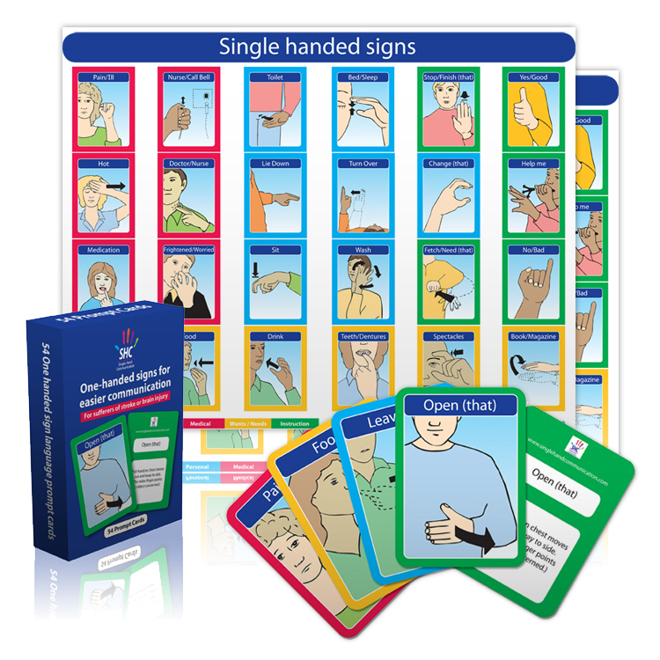 The SHC system, which is the first of its kind in the world to be specifically developed for hearing-to-hearing people, has been developed for anyone with paralysis down one side of their body or who have difficulty talking - making this system ideal for sufferers of stroke, brain injury or throat surgery patients.
The SHC single-hand sign system has been created by Derek Tune, a sign language interpreter from South Wales, who himself recovered from brain injury resulting from a serious road traffic accident nearly twenty years ago.
Derek came up with the idea after his elderly grandmother suffered a stroke and was unable to speak. Frustrated that he couldn't communicate with her using the traditional sign language he'd learnt, he set out on a five year personal journey to develop a system that could help others in similar situations.
"I really wanted to help re-empower individuals, giving them back some dignity and alleviate the frustration of not being heard or getting their needs met," said Derek Tune, founder of SHC.
Each year in the UK, approximately 150,000 people suffer a stroke. There are more than 1,000,000 stroke survivors in the UK, with more than half having been left with disabilities that affect their daily life.
The system can be used in the early stages following a stroke, surgery or brain injury aiding communication between patients, family and carers. It uses a series of one-handed gestures and signs produced as useful prompt cards and A3 laminated hospital table mats.
"Stroke, brain Injury and surgery affecting the voice can leave a person feeling very frustrated. This system has been designed to help patients express their needs and feelings to loved ones and carers, so they feel better understood," added Derek.
The 54-prompt cards include useful words such as: hungry, thirsty, help me, fetch, doctor, toilet and need. There is also a handy laminated A3 table mat, suitable for over-the-bed hospital tables, which contain 24 primary care words for immediate use, all of which can be purchased through the SHC website.
The products can be purchased by family members, care homes or health professionals and complements traditional speech and language therapies and rehabilitation techniques. The company is in the process of translating the product range into several languages, with an aim to distribute internationally.
Subjects
---
Health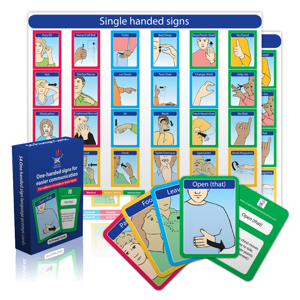 Download | 0.39 MB | 750 x 750 | .jpg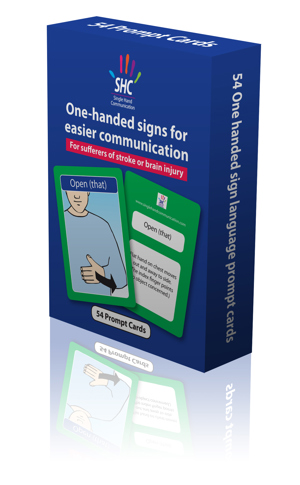 Download | 0.53 MB | 1977 x 1224 | .jpg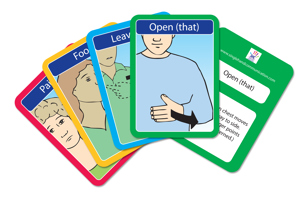 Download | 0.86 MB | 1908 x 2910 | .jpg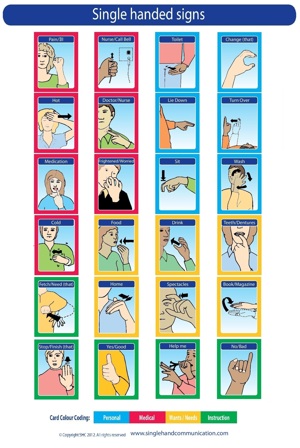 Download | 0.89 MB | 2688 x 1800 | .jpg
Single Hand Communication (SHC) video which explains all about the useful application of one-handed sign language for sufferers of aphasia and partial paralysis - such as stroke victims and those suffering from brain injury or throat/mouth surgery. www.singlehandcommunication.com
Download | 29.06 MB | .avi
Zip and download all files