Press release
March 17, 2008
Food & Wine
Sankey's Oyster Bar and Seafood Brasserie on Mount Ephraim represents the culmination of nearly 50 years and three generations of dedication.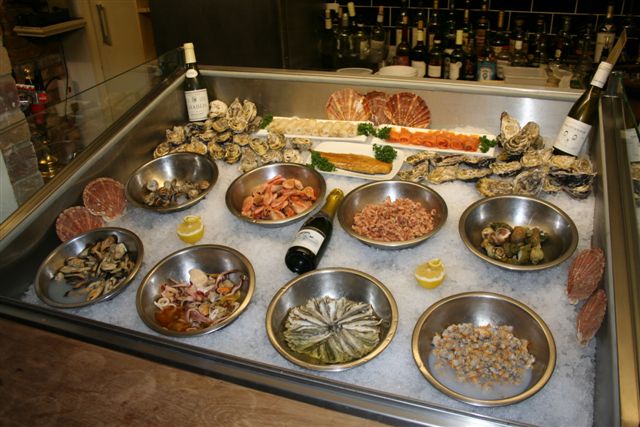 The eponymous Sankey's Seafood Brasserie and Oyster Bar is still dedicated to providing the highest possible seafood and to underline this they have now installed a full crushed ice display Oyster Bar style with seating at the bar.
The old York stoned cellar, with its collection of antique advertising mirrors, watercolors and antique lighting is counterbalanced with modern crushed iced fresh seafood displays.
Origin is the critical factor; a large proportion of the produce is sourced direct. Local fish from Rye Bay and Hastings, Lobster & Crab from Cornwall, Scallops and Cod from the Shetlands, Oysters from Ireland & Colchester.
Whilst keeping the same general format, the selection changes daily. We strive always to offer fresh Mussels, Oysters, Native Lobsters, Crabs, Prawns and Scallops.
Wet fish selection will usually contain Dover Sole, Skate, Squid, Turbot, Brill, Tuna, and Monkfish together with less well-known species such as Gurnard, Swordfish, Redfish, Snapper, John Dory and Bream.
Our Fish & Chips are substantial, sustainable and Fresh - not usual!
Our Homemade Fishcakes, Fish Pie and Bouillabaisse are also very popular.
There are non-fish dishes for the diehard Carnivore and Vegetarian
We are convinced that our continued popularity is the combination of the produce, skilled cooking, service, atmosphere and above all our unrivalled value for money. Exactly what was cited when we received our latest award - The Kent Dining Pub of The Year 2008

FOOD SERVICE TIMES
MONDAY TO SATURDAY, LUNCHTIME: 12pm to 3pm SATURDAY EVENING: 5pm to 10pm
TUESDAY to FRIDAY: 6pm to 10pm SUNDAY LUNCH TIME 12pm to 3.30 pm


SANKEY'S
DOWNSTAIRS - SEAFOOD BRASSERIE & OYSTER BAR
GARDEN - FOOD & DRINKS IN THE OPEN AIR
THE BAR - WINES & ORIGINAL BEERS - OPEN ALL DAY, EVERY DAY
39 MOUNT EPHRAIM, ROYAL TUNBRIDGE WELLS, KENT
TEL: 01892 511422 EMAIL: [email protected] WEBSITE: WWW.SANKEYS.CO.UK
TOWN PUB/BAR at Street Level
The walls are cluttered with one of the finest collections of memorabilia in the Country. Enamel Signs, Antique Brewery Mirrors and Old prints. The theme is principally "Pub and Brewery" related with the ever decreasing space being dedicated to items of local interest. Open Fires and comfortable seating create a unique place to sample our extremely comprehensive bar selection.
Up to 14 Beers on Tap with nothing "brewed under license" Imported Continental Lagers include Pilsener Urquell, Peroni, Hacker Pschor, Lindeboom and Becks. Real ales on hand-pump from local Brewers Harvey and Larkins. Belgium fruit beers, the Cherry macerated Kriek and Strawberry. The "exclusive to Sankey's" - Erdinger Weisse Bier served in magnificent glasses and of course Brewed in Dublin - Guinness.
The shelves are laden with the most comprehensive display of spirits and plenty of wines by the glass from our Master Sommelier selected wine List.
Good Beer Guide and Good Pub Guide 2008

SANKEY'S of MOUNT EPHRAIM
Royal Tunbridge Wells, Kent
Three Generations since 1961
Contacts
---
Subjects
---
Food & Wine