Press release
April 24, 2014
App
Ios
Cellphone game
Android
Game
Smartphone game
Word game
Game app
Windows phone
SquareWords is available in 17 languages for iOS, Android and Windows Phone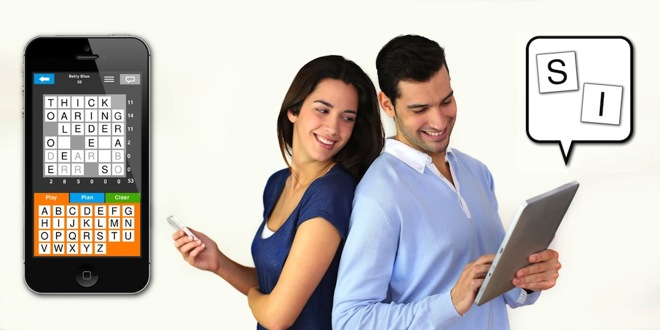 If you like Words With Friends or crosswords, then try SquareWords – a new international word game for smartphones based on skill. The app is free, so get it here:
iOS: www.kortlink.dk/e43g
Android: www.kortlink.dk/e43h
Windows Phone: www.kortlink.dk/e43k
A war of words
SquareWords is not a rehash of any existing game, but a new creation from the base up. It is probably also the only genuinely absorbing game that can be played with nothing more than pencil and paper. To learn how, watch this video: http://kortlink.dk/e6xw
Easy to learn – fun to play – hard to master
SquareWords is easy to learn, but you will have to be good with words to win. The game is somewhat similar to crosswords. The object is to form vertical and horizontal words on the board, while trying to foil the game of the opponent.
The players take turns to choose letters, which must be placed by both on separate, identical boards – according to individual plans. The board of the opponent is invisible until the game has ended.
Long words are favoured over short when points are awarded. The player who has earned the most points when the board is full, wins the game.
Chat with your opponent
The SquareWords app offers a selection of boards and matches suitable opponents.
The app automatically calculates points and offers a planning function, a chat function, a rating system and a leader board.
New players can hone their skills against an AI and young players can compete on a small board.
More info
SquareWords can be played in 17 languages: English International, US English, Danish, Dutch, French, Faroese, German, Icelandic, Italian, New Norwegian, Norwegian Bokmaal, Polish, Portuguese, Brazilian Portuguese, Romanian, Spanish and Swedish.
Videos, screenshots and press material about SquareWords are located here: kortlink.dk/e4yy

A fully functional free version of SquareWords can be downloaded through the links listed below. The premium upgrade is priced at 3$.
Application name: SquareWords
Release date: April 2014
Platforms: iOS, Android & Windows Phone
iTunes link: www.kortlink.dk/e43g
Android link: www.kortlink.dk/e43h
Windows Phone link: www.kortlink.dk/e43k
Developers: Scandinavian Apps & Apps ApS
E-mail: [email protected]
Website: www.squarewords.net
Facebook page: www.facebook.com/squarewords.net
Google+: http://goo.gl/eGNqc7
Twitter: @squarewordsapp
Scandinavian Apps is known for the WordZone app launched in 2012. Apps ApS is a game developer.
Subjects
---
App
Ios
Cellphone game
Android
Game
Smartphone game
Word game
Game app
Windows phone