Press release
September 8, 2015
Guyson International will be exhibiting equipment from their blast finishing and 'Kerry' branded ultrasonic cleaning ranges at the forthcoming TCT + Personalize show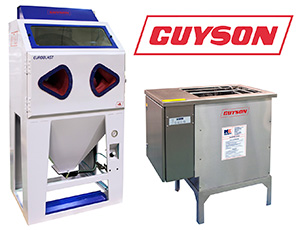 Leading industrial finishing equipment manufacturer Guyson International will be exhibiting equipment from their blast finishing and 'Kerry' branded ultrasonic cleaning ranges at the forthcoming TCT + Personalize show to be held at the NEC, from the 30th September to the 1st October 2015. This exhibition covers all aspects of 3D printing, additive manufacturing (AM) and rapid prototyping and Guyson can be visited on Stand No. J26.

Guyson will display representative machines from both of their manual blast cabinet ranges including a fully 316L stainless steel constructed variation of their Formula 1400 cabinet. This version showcases the type of high-end specialist manual cabinet that Guyson offers for blasting medical and dental implants (whether AM or conventionally manufactured) – where no ferrous contamination can be tolerated. The Guyson Formula blast range offers three cabinet sizes, including a bench-top version, and is ideal for smoothing out step lines, finishing SLS prototypes or creating the perfect keyed surface for painting on FDM 3D printed components.

Showing for the first time at 'TCT + Personalize' will be a variation of the Guyson Euroblast® 4SF blast cabinet which has been designed especially for the additive manufacturing market. A compact and highly versatile, industrial quality manual blast cabinet, ideally suited to frequent or prolonged usage, this AM application model features a side-only slam-shut door and full-length sealed gauntlets to minimise the potential for media escape from the cabinet as well as full earth braiding to prevent static charge build-up. Coupled with this new blast cabinet design is a Guyson C400 dust collector tailored to certain additive manufacturing applications which require explosion relief panel, secondary HEPA filtration and waste bin balance pipe and bin liner (for collection of the waste in a plastic bag) – all to remove any potential for explosion or for harmful dust contamination when blast finishing AM parts that include titanium, inconel or cobalt, as is often the case with aerospace and medical components.

Guyson's Euroblast® blast cabinets are often selected for applications such as surface preparation prior to painting/coating or for imparting a wide range of value adding cosmetic finishes to a variety of components created using 3D Printing or Additive Manufacturing techniques. This 4SF is just one of the range of seven standard cabinet sizes in which Guyson's premier quality Euroblast cabinets are supplied, a range that also includes sit-down and variable height cabinet designs, together with choices of blast guns, suction or pressure fed operation and a vast range of options and special features to aid component handling.

Also exhibited will be equipment from Guyson's 'Kerry' branded ultrasonic cleaning ranges, all of which provide fast and effective precision cleaning of prototypes in a fraction of the time required by hand cleaning. In addition, these Kerry ultrasonic baths and tanks can be used for support removal on certain prototypes. On show will be a selection of Guyson's Pulsatron MKC bench-top ultrasonic cleaning baths and also a KS525 ultrasonic cleaning tank – just one of their extensive ultrasonic cleaning tank range, with six standard cleaning tank sizes. These aqueous wash tanks' capacities range from 21 to 275 litres and all are robustly constructed using AISI 316L polished stainless steel for durability, while Kerry ultrasonic generators ensure powerful parts cleaning and long equipment life. Standard KS ultrasonic tanks operate at 38 kHz (±10%); however, the optional Kerry Guysonic generator with Primewave® controls allows the operator to select switchable dual frequency (36/66 kHz ±10%) and variable power control.

Manning the stand will be a number of Guyson sales engineers able to answer visitors' technical queries on the equipment or on application usage. Prospective users of Guyson equipment are also encouraged to submit sample components for free feasibility testing to the company's extensive development workshop in Skipton, North Yorkshire.

About Guyson
Guyson International Limited is a privately owned family company with a world-wide reputation for excellence in the design and manufacture of blast finishing, spray wash and ultrasonic cleaning equipment. Formed over 75 years ago, the company is registered to BS EN ISO 9001: 2008 and BS OHSAS 18001:2007 and its head office is located at Skipton, North Yorkshire, in the north of England. Guyson has four international subsidiary companies: Guyson Corporation of the USA, located in Saratoga Springs, New York State; Guyson SA, situated near Paris, France; Guyson Sdn Bhd in Penang, Malaysia; and Guyson CN, in Wuxi, Jiangsu Province, China.