Press release
February 12, 2018
Tourism
Marketing
Travel and Tourism
Leisure
Outdoor
Camping luxury
Travel industry
Getaway
Rural business marketing
Land owner business
Luxury camping business
Holiday
Luxury camping
Hospitality
Countryside
Accommodation provider
Farming diversification
Business
Glamping
Rural business
Farming diversity
Business marketing
Glamping products
Lifestyle
Marketing digital
Business development
Accommodation
Staycation
Glamping business
Product marketing
New Glamping industry website launched to help Glamping industry businesses market Glamping hospitality services and Glamping products.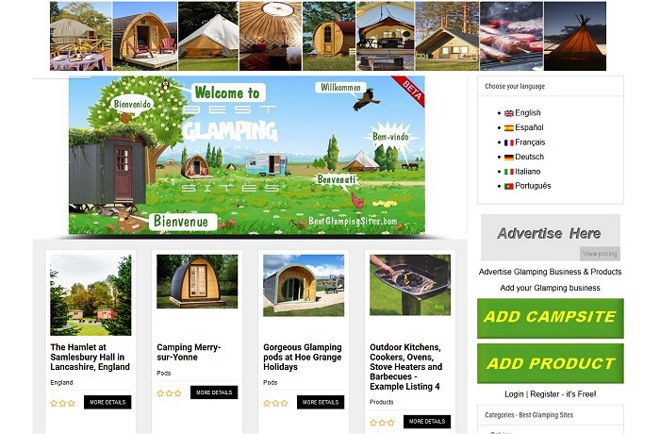 New Marketing Opportunity for Glamping Sites and Luxury Camping Sites.
Launching Public Beta: BestGlampingSites.com is a website designed specifically for the luxury camping Glamping industry. On a mission to curate, showcase & promote Glamping and Luxury Camping businesses to website visitors from around the world. Creating a new marketing opportunity for Glamping sites and luxury camping sites this website offers PR publicity in multiple languages.
Public beta testing will run for at least two months, during which time Glamping industry business owners can take advantage unbeatable early bird offers. On beta test completion website visitors will be able to discover the world's finest Glamping sites and luxury camping accommodation. In addition Glamp site owners will be able to discover new innovative luxury camping and glamping products, equipment and accessories. Purchasing one of several publicity driven options enables Glamping business owners to market their Glamping business, product or service.
Find Glamping Accommodation
Offering easy access to unique, quirky glamping sites and destinations the website will become popular with Glampers searching for accommodation. Visitors can find high quality, luxurious, unusual, quirky accommodation in pods, yurts, tents, tipis, tree houses, safari tents and more. Holiday makers who search for luxury camping glamping locations and destinations can create a relaxing glamping break or holiday experience.
The launch of Best Glamping Sites (beta) is sure to be popular with luxury camping Glamping business owners
Marketing your Glamping Business
Creating new niche specific marketing opportunities for businesses operating in the glamping, luxury camping hospitality and travel industry sectors the site will be popular with glamping business owners and glamping product makers.
Founder John Kelly states: "The launch of Best Glamping Sites (beta) is sure to be popular with luxury camping Glamping business owners. Glamp site owners can enjoy some great early bird special offers during the initial launch period. Businesses who join early can list a Glamping business, product or services for free during the beta period. Consequently they will gain one year of free exposure via the site and marketing channels. Depending upon the uptake this early bird offer may close early or could be extended, we'll see how it goes."
Offering high PR value the website helps luxury camping glamping business owners to develop their business by creating additional routes for potential customers to find, connect and book with them. Visually attractive portfolio style business listings exhibit and showcase luxury camping glamping sites or glamping products and there are opportunities for additional exposure. SEO optimized listings work along side your existing website to attract potential customers from your country and around the world.
Glamping businesses who take up early bird offers can expect to gain some exceptional publicity
Additional Exposure
Blog: A Glamping Industry blog compliments the dedicated glamping business directory. Once established the blog will connect customers to luxury camping Glamping businesses found in the directory. Creating additional options to increase the exposure of any glamping business via article, press release, special offers from the business. Writing about Glamping sites, experiences, news, special offers, Glamping products locations and destinations the blog authors look forward to receiving your contribution.
Social Media: To generate further interest blog articles, business and product listings will also be publicised via major social media networks.
Kelly states: "Glamping businesses who take up early bird offers can expect to gain some exceptional publicity. They'll benefit from the interest we generate during our initial marketing campaign and on-going publicity drive in the coming years. We know there is a large and growing audience out there who are actively searching for information on glamping and luxury camping locations, businesses, products and services and we're keen to play our part assisting this audience to find the best Glamping experience available. Ultimately Best Glamping Sites mission is to promote Glamping industry businesses helping them to reach more customers."
Unique Selling Point (USP)
What makes Best Glamping Sites different?
BestGlampingSites.com is a truly global website, from UK, Europe, US, Africa, Australia New Zealand, Asia and South America. Once populated the website will be able to help visitors to explore every continent. Many routes of discovery (Website, Blog Articles, Socialmedia channels) will help Glamping hospitality businesses to connect with potential customers. In addition website name inspires confidence and trust. It is an easy to use website and it's in the process of becoming fully multi-lingual. Website visitors can make comparisons and find the best Glamp sites for holiday or vacation. Holidaymakers can use the site to draft an itinerary of Glamping sites and get the best prices by contacting and booking directly with any chosen site/s. Anyone can find a glamping experience that fits their holiday budget by exploring a variety of lodging types & locations. A special Glamping luxury camping holiday experience is only a few clicks away for the website visitor.
Mission Statement
Our mission is to connect holidaymakers and Glampers with great Glamping and luxury camping holiday sites and destinations by making it easy to find the best Glamping sites that you can book directly with the owner, manager or agent. In addition we promote luxury camping and Glamping businesses helping them to reach more customers.
About BestGlampingSites.com
BestGlampingSites.com is a new global guide to glamping accommodation featuring unique & quirky Glamping experiences around the world. Published online in digital format from January 2018 the website also features a product section where product manufacturers can showcase Glamping equipment and accessories. Focused on marketing high quality Glamping business & luxury camping business with informative portfolio listings, blog articles and social-media promotion.The website is designed to curate, exhibit and showcase the best glamping, luxury camping websites, services and products from around the world. Its primary function is to connect anyone who is interested in glamping and luxury camping with hospitality services, destinations & experiences. The site also serves to connect product manufacturers with Glamping business owners.
Original release: http://bestglampingsites.com/new-luxury-camping-glamping-industry-pr-website-announced/
Subjects
---
Tourism
Marketing
Travel and Tourism
Leisure
Outdoor
Camping luxury
Travel industry
Getaway
Rural business marketing
Land owner business
Luxury camping business
Holiday
Luxury camping
Hospitality
Countryside
Accommodation provider
Farming diversification
Business
Glamping
Rural business
Farming diversity
Business marketing
Glamping products
Lifestyle
Marketing digital
Business development
Accommodation
Staycation
Glamping business
Product marketing