Press release
May 5, 2010
Business
EMERGENCY HOSE REPLACEMENT AVAILABLE 24/7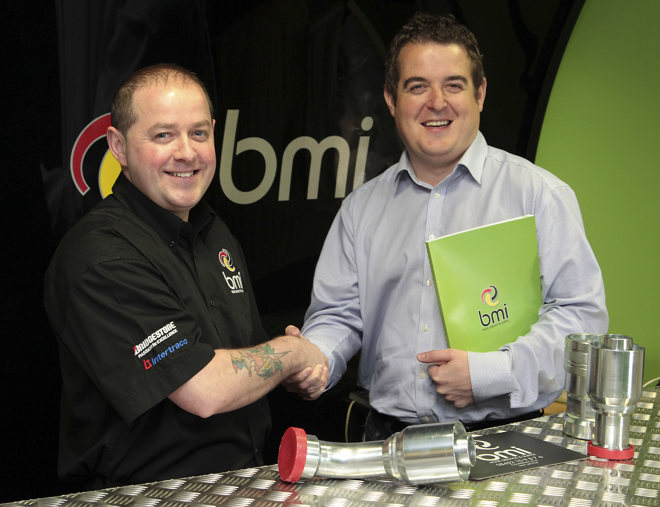 BMI Hose, the number 2 in the emergency hydraulic hose repair market, has just announced that its franchised service and supply centre in Hillingdon Park, Glasgow is now fully operational.
"I'm delighted to announce that the BMI service and supply centre has moved from Coatbridge to Glasgow and that it's now up and running. With a population of over one and a half million in the Clyde Valley and a diverse range of industry there is a huge opportunity for our franchisee Garry Campbell and his team. They have our full support as they work to serve existing and new BMI customers alike", said Simon Moxham, founder and Chief Executive of BMI Hose, making the announcement in Glasgow this week. He went on to say: "With 15 service centres up and down the UK we offer true nationwide coverage for our growing customer base and we're working hard to expand our network further with new openings imminent".
BMI has 4 service centres in Scotland in Glasgow, Edinburgh, Perth and Macduff, Aberdeenshire. The new centre, located in Hillingdon Park G52, will serve the important Clyde Valley industrial zone from Newhouse in the East to Greenock in the West.
BMI Hose Glasgow is owned and managed by local man Garry Campbell who has many years of experience in the emergency hose replacement market. Gary is delighted with the move to Glasgow and the opportunities it brings. Commenting at the announcement he had this to say: "I'm looking forward to the opportunity that our new centre gives. We've a huge market to go at and I know that customers appreciate the convenience, service and value that BMI delivers on a daily basis. I've got an experienced team and we're all trained in the BMI process, products, and safety".
BMI Glasgow serves the heavily populated Clyde Valley industrial belt with the M8 motorway serving as a 'backbone' across the patch. They operate 5 vans to serve a territory approximately 30 miles wide. BMI prides itself on its response times and it typically has a van on-site within an hour of a customer's emergency call, at any time of the day or night.
BMI Hose serve a growing customer base in the construction, industrial, utility and service sectors. As well as operating a 24/7 emergency hose replacement service BMI Hose is a leading supplier of hydraulic and industrial hoses, related components and accessories.
The BMI Hose emergency customer help line is available 24/7 on 08452 10 9 8 7 6.
For more information:
BMI Glasgow 0141 880 2888
ENDS
EDITORS NOTES
BMI Hose is number 2 in the emergency hydraulic hose repair market and a leading supplier of hydraulic and industrial hoses, related components and accessories.
The first pilot BMI Hose centre opened in Dudley in November 2007, just a few miles from the corporate headquarters in Wolverhampton. The acquisition of Hiflex Fluidpower, in September 2008, catapulted BMI Hose to the number 2 position in the industrial and hydraulic hose market.
BMI use world class products, from leading suppliers, including Bridgestone hydraulic hose and Intertraco hose fittings.
BMI offers a convenient, fast, and efficient nationwide 24/7 emergency on-site hydraulic hose repair service from a network of 15 service centres (March 2010) and a fleet of more than 75 fully equipped service vehicles.
The BMI network is a mix of company owned stores and franchised outlets, which means that the local service and supply centres have the commitment and personal touch of small businesses, but are backed by the resources of a national company.
Opportunities for new BMI Hose service and supply centres exist throughout the UK.
BMI Hose Wolverhampton 01902 867 800
Image(s) © 2010 BMI Hose Limited. Permission for reproduction in connection with this press release is granted.
Issued by Dark Arts Marketing Limited on behalf of BMI Hose (UK) Limited.
Contact, John Bradley. [email protected] 01332 856323 or 07872 600 868
Or Faye Coton. [email protected] 01332 856999 or 07855 053081
Subjects
---
Business