Press release
March 11, 2013
Business
MJ May add brand new Actros to fleet and appoint new Operations manager as they look to build on good 2012.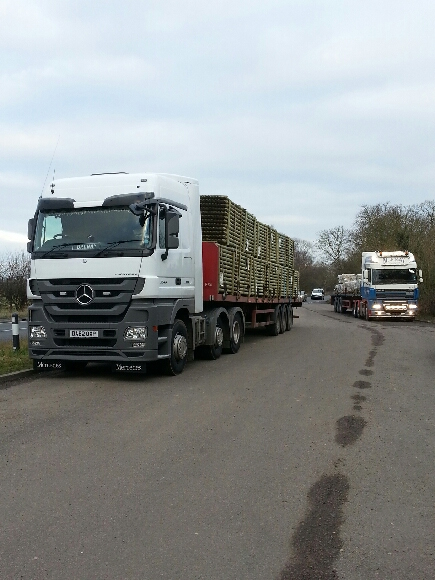 In January this year general haulage company MJ May Transport services of Heywood, Bury took delivery of a brand new 44 Ton Mercedes Actros on a regular contract delivering construction equipment across the UK. Over recent years MJ May have been predominantly DAF with a whole range of models and sizes throughout the fleet, the latest of which was a fully loaded XF but as Managing Director Mick May explains the deal on offer at Mercedes was too good to miss, Mick said "We are usually DAF through and through and have been for a large number of years but Id spoken to Mercedes a number of times and had a look at the Actros and never taken it any further until I had a good chat with the sales rep and the deal Mercedes put to us really was too good to turn down".
Now almost 3 months in and the company couldn't be happier with the new purchase, its good on fuel, is a real work horse and is like a home from home for its regular driver.
MJ May Transport have a number of regular contracts up and down the UK and provide a range of haulage services including light haulage and heavy haulage, in fact the majority of the steel used in the London Olympic Orbit structure was delivered on the back of one of Mick's trucks.
As the company continues its growth and looks towards a successful 2013 Andy Grey, Mick's right hand man has been appointed the more official position of Operations Manager, Andy provides the company with a wealth of experience.
After starting out as an apprentice mechanic aged just 16 at Clark & Holts transport in Bury he passed is Class 1 HGV test at 21 and since then has driven for several haulage company's in and around the Bury area which has in turn provided him with a wealth of valuable knowledge about the transport industry.
Andy joined MJ May Transport as a driver come yard man come office man and come everything in between and has proved invaluable ever since and as the business has grown Andy has taken on more and more of the operations side of the company and was therefore we felt it only right to promote him to operations manager.
We are now again looking to grow and we are hoping that 2013 can be as good as 2012 and more and who knows maybe we will be making a switch to Mercedes and adding more of the amazing Actros tractors to our fleet in the coming years.
Subjects
---
Business