Press release
October 7, 2009
Science
Achieve fast unattended retrieval while increasing researcher productivity. It can take 2 technicians 2 weeks to complete 10,000 picks, the MiniStore can achieve this task in less than one day.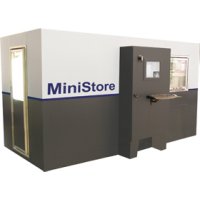 The MiniStore keeps samples safe, organized, and accessible. The MiniStore sample management system stores and tracks thousands or even millions of samples, all in one space saving location.

The MiniStore handles not only compounds but bacteria, viruses, cells, DNA, blood samples and much more.

Enjoy quick retrieval of individual and/or bulk samples for processing, from a single trusted storage system.

The MiniStore automated sample storage system accommodates a variety of sample types and formats (including 96 and 384 mini-tubes, dram and scintillation vials, 1.4 ml tubes, plates, etc).

The MiniStore storage system can be customized to fit your current media standards with the ability to store and manage multiple media types within the same system.

The MiniStore boasts a flexible sample storage room with environmental control capable of -80° C.

A Vial Weighing Station module may be integrated into the reformatting module of MiniStore. Vials are weighed as they are processed into the system and the data is correlated with initial tare weigh. This design reduces manual weighing steps and ensures accurate accounting of samples.
Small size automated storage and retrieval system
Expandable/modular system starting at 1,500 plates
Barcode tracking of mini-tubes and carriers
Compatible with tubes, plates, bottles and vials
Virtually any container type can be stored in a single system
Cherry picking: in excess of 10,000 samples per day
Bulk storage and retrieval: in excess of 10,000 samples per day
Storage conditions include room temperature, 4°C, -20°C, -80°C
The MiniStore, has a modular design starting with a 1,500 plate capacity. This expandable storage system was created to fit into smaller lab spaces.

As your library increases the MiniStore can be expanded vertically or horizontally.

Easy to expand post-installation.
Subjects
---
Science