Press release
November 23, 2012
Family
Mini Social introduces the sleeping bag with arms and legs which allows total freedom of movement whilst keeping toasty warm. Perfect for big & small adventures. More Freedom. More Fun. Everywhere!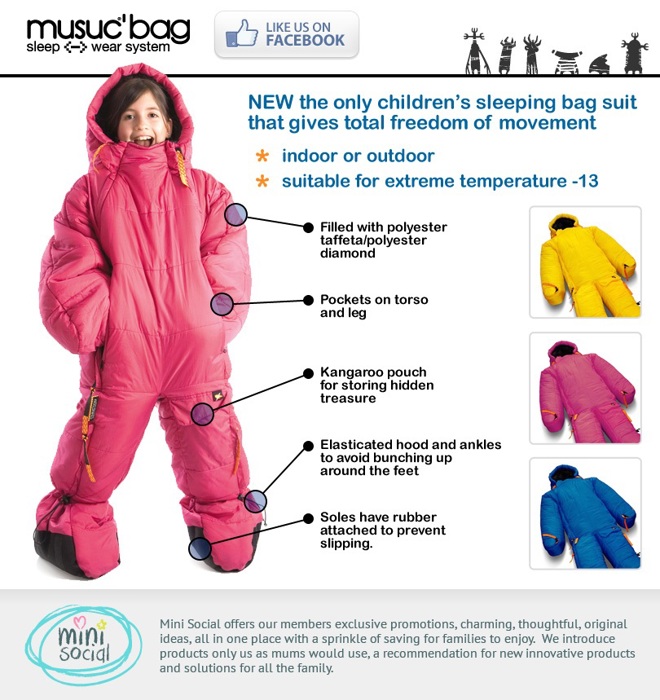 With this wonderfully wet British weather and the cold days and nights drawing in, we are often on the look-out for the best solutions for our little ones to keep warm, so we can keep having fun!
Whether you're off to festivals, that annual camping holiday in Europe, a fun fishing trip or setting up tent in a friend's garden, one thing that is absolutely required is a sleeping bag, and a warm one at that. Your children's fun can often be ruined by them being cold in the night, little teeth chattering while they toast their marshmallows around the fire, and we all know that a good nights sleep equals a happy child. But is the common sleeping bag living up to all its duties!!
With the 'open top' design of the common sleeping bag the chill can often leak in through the gaps, and our little ones' precious heads can often be left exposed to the cold. Then there's the sleeping bag style 'sack race', hopping and skipping over to sit by the warm fire, sleeping bag tightly held onto, or falling down; not really safest and most practical option. What if your little one likes to wriggle, starfish or turnover when they sleep? The common sleeping bag may fit snugly, but doesn't allow much freedom of movement.
Mini Socialare super elated to introduce to you the wonders of the Musuc Bag, one of those innovations that comes along, and has everyone, who comes across it, in a whirlwind of excitement!
Musuc Bag have taken an original concept and made it a whole lot better by adding arms and legs that contour your body perfectly. It is designed for maximum comfort, mobility, total freedom of movement, and above all a good night´s sleep.
With stylish pockets on the torso and legs, how cool to still be able to carry your torch, Ipod or mobile phone with you without having to hold onto them all the time, and of course for storing your little hidden treasures. It is filled with polyester taffeta / polyester diamond for extra warmth and cosiness, can be used indoors or out, and it is well equipped to keep your child warm in even extreme cold temperatures, up to -13C degrees below.
It is the perfect evolution of the traditional sleeping bag, with your arms now warm and free to move about, never miss out on that last goodnight cuddle! What's more the hood and ankles are elasticated to keep the warmth in and to ensure a snug fit, and with rubber attached to the soles of the feet it can prevent any slipping or busy little feet getting wet. We're not sure we would ever want to take the Musuc Bag off!
Mini Socialhas got 1 up for grabs over on the Mini Social Facebook page at the moment, simply visit us to win!
What an ingenious idea and design; a sleeping bag in the shape of your body, and with its ultra cool and hip features, blue, yellow and pink....we think kids will just LOVE it!
Subjects
---
Family