Press release
August 7, 2017
Global health
Global health action
Health awareness
Maternal health
Can we stop unnecessary maternal deaths for good? Mediaplanet is running a 'Maternal Health' campaign which aims to raise awareness on international standards for maternal health, working in partnership with key thought leaders from WHO, EWEC, UNAIDS, UNFPA and more.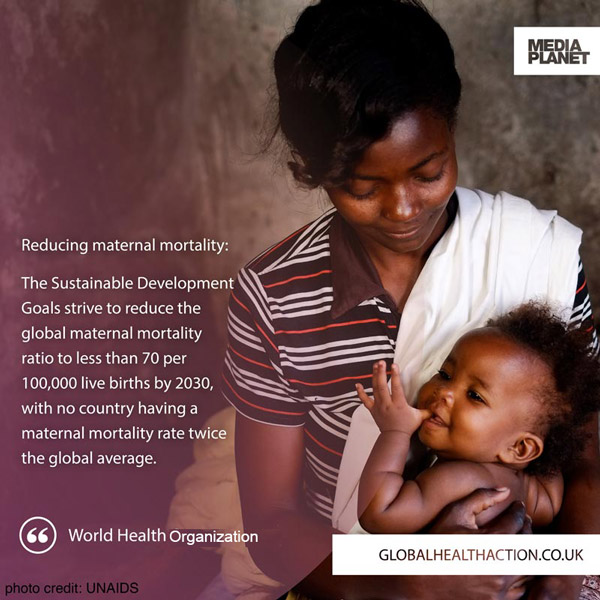 The Maternal Health campaign kick-starts this week, launching as a progress report through every copy of the Guardian newspaper in the UK.
The campaign also launches on Globalhealthaction.co.uk with insight from key opinion leaders such as Dr Anthony Costello (Director, Department of MCA, WHO), Michel Sidibé (Executive Director, UNAIDS), Toyin Ojora Saraki (Founder-President of WBF Africa), Dr. Natalia Kanem (Acting Executive Director of UNFPA) including quotes from Phumzile Mlambo-Ngcuka (Executive Director, UN Women) and Edna Adan (Former Foreign Minister of Somaliland Republic and Regional Technical Officer for Mother and Child Health, WHO).
We look into tackling myths in breastfeeding, turning drug development upside down in the fight against malaria and working towards an ambitious global plan for mothers, babies and HIV. We raise the importance and accessibility of health apps for the maternal health space in order to bridge the knowledge gap in educating mothers and their children.
By traveling to Rwanda, we look into the wonderful successes supported by IOWD for women with obstetric fistula with one very fragrant incentive. What happens when surgery isn't a choice? We consider many parts of the world fighting for safe anaesthesia. Without safe and timely surgical intervention, many women can bleed to death. Traveling to Ethiopia and Uganda, we discover two young anaesthetists who are real action leaders for their countries' healthcare systems and at the forefront of safer care and advocacy.
With this campaign raising a collective voice for support in maternal health, we advocate for EWEC's most recent progress report on raising maternal health standards worldwide. As the print edition of the campaign continues to spread the word globally to key events including the UN General Assembly taking place in September, the online edition also aims to inspire conversations on what's next for maternal health. How do we ensure reducing the global maternal mortality ratio to less than 70 per 100,000 live births by 2030 (SDG 5)?
Follow the conversation about #MaternalHealth on Twitter, and check out our digital content here: globalhealthaction.co.uk/maternal-health
Subjects
---
Global health
Global health action
Health awareness
Maternal health