Press release
February 15, 2009
Construction
Light Tape® has been used recently to great effect on Barratt's outstanding new London Dockland's Elektron development to highlight the line of the Greenwich Meridian.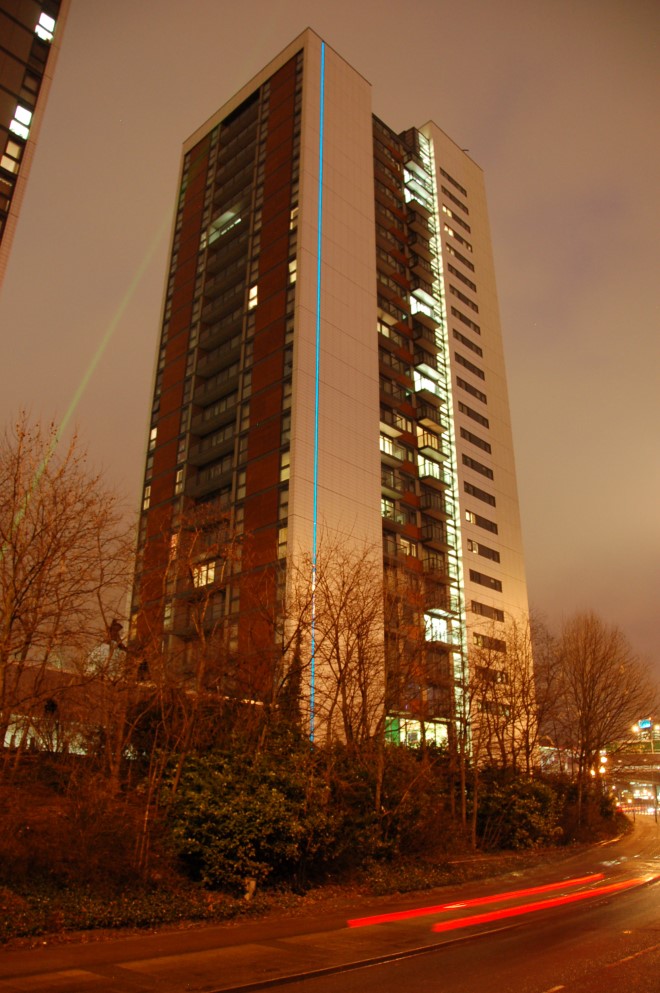 Elektron is Barratt's new London Dockland's development the west tower of which is located directly on the Meridian Line, to highlight this Light Tape® reseller Earlsmann were asked to install two spectacular 50mm wide by 70m high lengths of Electric Blue Light Tape® one on the North and one on the South side of the building.
Light Tape®, ground breaking lighting solution, is a unique environmentally friendly, wafer thin light bulb which is set to revolutionize the use of light in architectural building display.
For more information go to: www.lighttape.co.uk
At 1 Watt per Meter at 25mm (1") wide Light Tape® uses less than 5% of the power and is half the price of Neon and Cold Cathode display lighting, it is flexible, easier to install and maintain, reduces light pollution, produces no waste heat or infrared light, is fully recyclable, uses No Gas, No Glass and No Mercury.
Light Tape is available in a wide range of colours and widths from 6mm to 150mm up to 100m in length. Panels are not limited to square or oblong, Light Tape can be made into circles, ovals and complex shapes just as easily.
Light Tape with its wealth of benefits, versatility, ease of application, cost effectiveness and extremely low carbon footprint is fast becoming the chosen, viable alternative to more traditional forms of display lighting.
For more information on Light Tape® e-mail: [email protected] or call us on: 08456 170 697.
-ends-
What is Light Tape?
Light Tape is made up of metal ribbon coated in Sylvania phosphor and encapsulated in a Honeywell laminate. Light Tape has no glass, no gas, and no mercury/heavy metals and so is user and environment friendly. Light tape provides an 85% - 90% energy saving against other commercially available light sources such as Neon and Cold Cathode. Light Tape uses 1 Watt per Meter at 25mm (1") wide, a 100m length of 25mm wide Light Tape only uses the same power as a 100w light bulb. Due to its ultrathin profile of less than 1mm Light Tape provides a neater, modern, space saving alterative that is easy to install with little to no maintenance and has a long working life of up to 40,000 hours. For further information go to: www.lighttape.co.uk
Development kits for Light Tape enabling systems to be easily developed, tried and tested are now available from Light Tape UK which operates with full sales and marketing capabilities, as well as warehousing to enable fast delivery from stock. Light Tape UK will also provide full back-up and support as well as advice and assistance in system design and requirements.
About Light Tape UK Limited: Based in Barnsley South Yorkshire Light Tape UK Limited is the exclusive distributor for Electro-LuminX products in the UK and Ireland.
Subjects
---
Construction