Press release
February 19, 2013
Tourism
A lively season of events in this picturesque fishing village in Cornwall promises to keep visitors enthralled and entertained.
There are many compelling reasons to visit the picturesque fishing village of Porthleven in Cornwall but this year's line-up of quality local events will be an extra draw for holiday-makers considering a break by the sea on the bottom heel of Britain.
People who have already holidayed in Porthleven will have been thrilled by its superb location, beautiful coastal scenery, relaxing atmosphere and choice of amazing holiday cottages to rent. But in 2013 there is a whole list of events to entertain and charm visitors to the Cornish village.
The season generally kicks off around Easter when the spring sun warms the coast and Porthleven gets ready for its annual influx of visitors. Porthleven is a lively and friendly place at all times, but a plethora of local events add an extra sense of occasion to the popular Cornish holiday destination.
This year guests staying in Porthleven can experience a traditional Harbour Market which is held each Tuesday, Thursday and Sunday from the end of March until the end of October. Visitors can chat with stall holders and pick up local food and drink to enjoy in their holiday cottage.
One of the highlights of the tourist season is the Porthleven Food and Music Festival, which this year takes place on Saturday 20 April. This is a celebration of the port's maritime heritage, with local artists, food producers, fishermen and businesses taking part to highlight the importance of the sea to the Porthleven community.
The Flora Day in nearby Helston has been a local community day and spectacle for centuries. On Wednesday 08 May, the streets will be closed for the lively annual celebration which involves the whole town as well as visitors to usher in a prosperous harvest. During the summer months, the harbour and surrounding streets are illuminated with pretty lights to add a special atmosphere to this holiday destination near Cornwall's southernmost tip.
One of the biggest annual events in the area is the RNAS Culdrose Air Day, this year on Wednesday 24 July, which draws tens of thousands of spectators to the air base to watch military aircraft flybys plus exhibits and demonstrations. Those lucky enough to find a place to stay in Porthleven in the height of summer on Friday 03 August can witness the end of the Porthleven Race Across The Bay, a colourful gig rowing race which finishes at the harbour after a long haul from Marazion.
Visitors will be able to see lifeboats in action and learn about the valuable work of the RNLI at the annual Lifeboat Day on Sunday 18 August. This family fun day is an important community event which also raises money for the sea rescue charity.
The traditional high summer season closes for Porthleven on August Bank Holiday, with a torchlight procession through the streets, ending with a fireworks display - which makes a great family occasion for locals and holiday-makers alike.
With so much going on this year in and around Porthleven, it makes an ideal base for people looking for a lively and entertaining holiday in Cornwall. For more information on things to see and do around Porthleven, please visit the Porthleven Holidays website.
Subjects
---
Tourism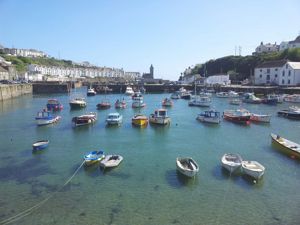 Porthleven harbour is the scene of many local events enjoyed by visitors and holiday-makers alike.
Download | 0.3 MB | 1224 x 1632 | .jpg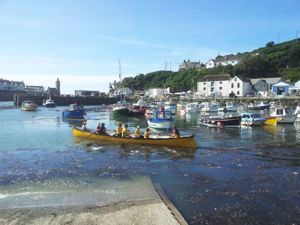 Gig rowers head out from Porthleven Harbour
Download | 0.12 MB | 720 x 960 | .jpg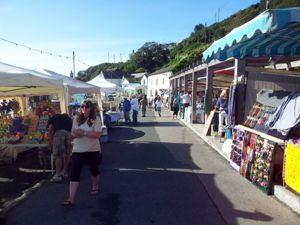 The food and crafts market at Porthleven Harbour in Cornwall.
Download | 0.12 MB | 720 x 960 | .jpg
Zip and download all files