Press release
July 5, 2012
Business
Manchester estate agents Sanderson James are looking for landlords within the Manchester area.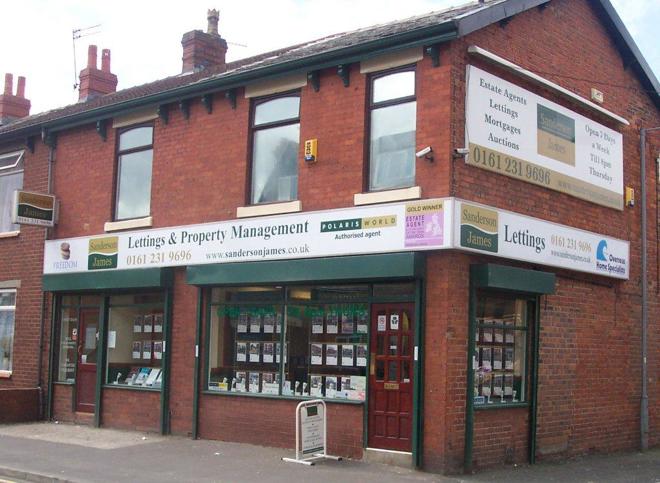 Sanderson James Manchester based Lettings and Property Management agents have been quickly expanding their portfolio of rental properties, by offering landlords within the area a service that takes away all the stresses of letting and managing their property as a landlord.
Their mission is to minimise Manchester landlords void periods, obtain the most achievable rental yields, source high quality tenants while remaining focused on providing high quality customer service.
Their specialist rental services of Let Only or Let with Management can be tailored to a landlords specific requirements and due to their many years experience of renting properties to tenants, they have the ability to find the right tenant for your property. All their tenants undergo a reference check that is extremely comprehensive this includes a thorough credit check, references from employers and previous landlord references.
One months rent is paid along with over a months rent as a deposit, even before the tenant moves in and their rent is set up to be paid in advance on the 1st of the month by standing order. This gives you the peace of mind that you have additional protection. Finally Rent Guarantee and Legal Expense Cover is available as even the most financially stable tenants can experience difficult financial times. Your property is inspected on a periodic basis to ensure that the tenants are maintaining the property to its current standard.
They have their own professional maintenance team that work for you to carry out routine and emergency repairs to your property 24/7 365 days a year. They even take emergency calls in the middle of the night, quick response and effective management of repairs also maintains a good impression with tenants which leads to an increase in tenancy renewals.
Their fee's are extremely competitive, offering 10% management, which is lower than many of their competitors and they offer further reductions to Landlords with multiple properties. Which is excellent value for money considering their excellent service. It can often be a mistake to just choose the cheapest letting agent, you need to find one who is focussed on maximising your rental return and provides a professional management service with high quality and reliable tenants, or it could end up costing you an awful lot more.
To find out more about their property management services visit www.sandersonjames.co.uk or call 0161 231 9696 to speak to one of their professional Letting agents
Contacts
---
Subjects
---
Business