Press release
June 9, 2012
Homes & Gardens
If you are looking to buy, sell or rent a property in Manchester, Sanderson James offer a service that is second to none!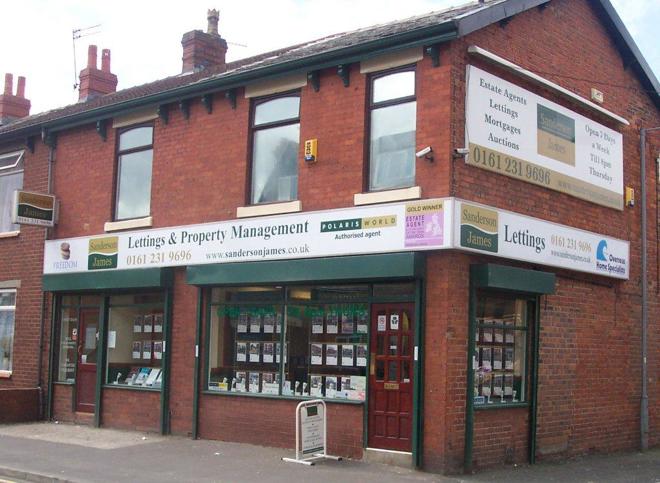 It has been a tough time for the property industry; it's only the pro-active agent who has and who will continue to survive in the current financial climate. This means going one step further and staying on top of their competitors. Sanderson James established in 2001, has expanded to 3 successful offices in Gorton, Gorton Sales Office and Levenshume, which, allows property coverage of all of Greater Manchester. Dean Sanderson owner and Director of Sanderson James brings over 20 years experience to the area, along with a wide array of services.
Dean said: "We go above and beyond the call of duty, making sure that we always stand out from other estate agents in the area. Our loyalty is to our clients, making sure that they have all the correct and informative information to ensure that they are making the right move"
Sanderson James have introduced late opening hours to accommodate even the busiest people who need assistance out of office hours, they open every day until late and stay open on Thursdays until 8pm.
Dean has also introduced the most up to date systems and technology "When you log onto our website you'll find that we provide the facility of virtual tours of our portfolio of properties" It gives a clearer picture of whether the property is suitable, preventing wasted viewing and travel time. With the facility to zoom in and out, the panoramic views allow you to view the property without moving from your armchair. This is a superb way to view numerous properties without the extensive travel. "At Sanderson James we like to see ourselves as a one-stop shop within the property industry" continued Dean
Buying a new home is a huge financial commitment and it can be hard to find Estate Agents that work extra hard whilst maintaining a personal service. Dean said "This is one of the reasons we are un-rivaled in our area, we like to provide a high level of customer service whilst, treating each of our clients as individuals with different needs"
If you are looking to buy, sell or rent property Call 0161 256 0808 or visit the website at
www.sandersonjames.co.uk Manchester Estate Agents
Contacts
---
Subjects
---
Homes & Gardens