Press release
April 4, 2012
Food & Wine
Wines of Argentina toasts the 2nd anniversary of Malbec World Day on April 17th with tastings, retailer promotions, competition prizes...plus a very special Chapel Down Malbec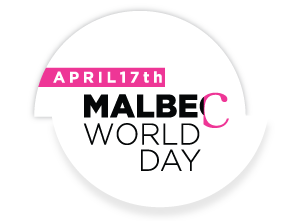 With an export growth of over 300% over the past 5 years and sales rising 38% in the UK in 2011 alone, Argentine Malbec has firmly established itself as a global phenomenon. In recognition of this, Wines of Argentina launches its 2nd annual 'Malbec World Day' on April 17th, an international celebration dedicated to the variety with tutored tastings, retail promotions (both in the on and off-trade) and competitions taking place in over 40 countries.
April 17t for many, marks the 'birthday' of the modern Argentine wine industry. On this day in 1853 General Domingo Faustino Sarmiento, one of the country´s national heroes submitted a proposal to the Argentine Government to broaden and diversify Argentina's wine industry. The late 1800's was subsequently a period of exponential growth for Argentine wine and it was the Malbec grape in particular that flourished in the varied terroirs and rugged landscapes offered throughout the country.
The UK will once again take centre stage during Malbec World Day, seeing widespread activities with major retailers, top restaurant groups and media partners - plus the launch of the of the "vintage" Chapel Down Malbec 2011, a wine made in partnership with the Gaucho Restaurant Group with grapes grown in Argentina but elaborated in the UK. The ambitious project is a great example of a collaboration between two of today's most interesting wine producing countries and promises to be something very special indeed. The first Argentine Malbec made in the UK will be available for tastings at Chapel Down in Kent and at all Gaucho Restaurants.
There will be many ways for the curious wine drinker to celebrate the rise of the mighty Argentine Malbec over the promotional period:
For the 'at home' wine lover:
Following on from the success of their 2011 promotion, Majestic Wine are joining forces once again by offering a Malbec themed tasting week in all stores, from 13th April. During this period Malbec will be the only red on their tasting counters and they have arranged a raft of different styles of Malbec for customers to sample. Malbec will also be the key feature on the Majestic website for 1 week prior the World Malbec Day, so look out for special deals. http://www.majestic.co.uk/storelocator.
This year Naked Wines will also be running an exclusive offer: Discover Argentine Malbec Case, with 25% off – in one of the top slots on their mixed cases page (http://www.nakedwines.com/cases). This offer starts on Monday 16th April until the end of the week. Naked Wines will also host an exclusive competition on their Facebook page (www.facebook.com/nakedwines), offering one lucky person and a friend a trip to Argentina.
Avery´s Wine Merchants and The Telegraph Newspaper have teamed up to make a month long feature of their entire Argentine range. In addition to dedicated sections on both the Avery's and Telegraph Wine websites, consumers should look out for an 8 page feature in the Telegraph Wine Magazine from Mid April detailing offers and in-depth information on Argentine wine. http://www.averys.com/ and http://wine.telegraph.co.uk/
For the 'restaurant-loving' wine aficionado:
Squaremeal, the UK's leading restaurant website are key partners for the promotion and will be running a campaign to help direct consumers to a range of restaurants offering special deals.
For a list of restaurants participating in the Malbec World Day campaign, look at Square Meal website www.squaremeal.com . Some examples of these are:
Bar Boloud Head Sommelier, David Vareille, will be opening a unique 'outsized' Imperial bottle (6 litres) of Catena Zapata Malbec 2006 during dinner. Guests will be order this wine by the glass, with the addition of some table-side theatrics as it is poured directly from the bottle
GAUCHO Restaurants:Argentine pioneers withtwelve restaurants throughout the UK and a wine list featuring no fewer than 65 Malbecs both by the glass and bottle. Also arrive to sample the first ever UK made Argentine Malbec
Hawksmoor: the three London restaurants will be showcasing fine examples of Malbec from Carlos Pulenta and Luigi Bosca
Black & Blue: Another top London restaurant group specialising in steaks and burgers, and featuring a great range of Malbecs from some of Argentina best wineries
Redhook: Steak and seafood mecca in Farringdon, showcasing a selection of Malbecs, including the super-sexy Cheval des Andes blend
Casa Malevo: The charming Argentine restaurant in Connaught Street will be offering 3 Malbec by the glass and 7 by 375ml carafe. During the full week they will also be offering a Malbec sampling flight containing a selection of 4 wines and priced at £19.50
Adnam's Pubs - one of the UK's most famous pub groups - and real wine specialists - will be offering a range of in-store tastings at Adnams retail stores. www.adnams.co.uk
Jugged Hare - on Friday 13th April, the recently opened restaurant will be running a Malbec Master Class at £30 per person, guests will taste a selection of wines made from stunning varietals to see if the ones from Argentina really are the best!
De La Panza– enjoy a malbec wine tasting and watch Argentine tango dancers strut their stuff on the evening of Malbec World Day.
Constancia– This Argentine gem in Borough is offering five Malbecs from five regtions, all by the glass, until end of April
Garufa– The north-London Argentine restaurant is offering a 3-course menu with Malbec pairings prices at £45
The Bull Steak Expert– Executive chef Daniel Veron hails from Argentina´s Pampas region, the restaurant will offer a 3-glass Malbec flight to costumers dining on Malbec Day.
In addition, the following restaurants will serve Malbec for Malbec World Day (asterisked restaurants indicated a by-the-glass offering):
34 - A La Cruz*- Barbecoa* - Big Easy* - Boisdale of Belgravia, Bishopsgate and Canary Wharf – Brinkley´s Garden Restaurant – Buen Ayre* – Buenos Aires* - Butcher & Grill * - Butlers Wharf Chop House *- The Cabin Steak & Seafood Grill* - The Cadogan Arms – Chez Bruce* - Coq D´Argent* - Dean Street Townhouse – Fox & Anchor – Galvin La Chapelle – Goodman* - Gordon Ramsay at Claridges* - Green´s restaurant* - Hix – Le Pont de La Tour – Losa & Simón* - Marco Pierre White Steak & Alehouse* - Maze Grill – The Meat & Wine Co* - Moo Grill * - Mortons – Palm Restaurant* - The Popeseye Steakhouse – Preto – The Rib Room – Roast* - Sabor* - Santa Maria del Sur * - Smiths of Smithfields* - Sophie´s Steakhouse* - The Steak Exchange* - JW Steakhouse* - Trinity* - Vivat Bacchus*
UK-Wide
Den, Bearsden * and El Matador, Sevenoaks*
SCOTLAND
Montpeliers, Scotlands's premier restaurant group, will offer customers a six month long promotion of Argentine wines by the carafe across 4 sites - Ricks, Indigo Yard, Montpeliers and Tigerlily. The promotion will commence in April with special activities for Malbec World Day. Visit for details http://www.montpeliers.co.uk/
For a full list of events and tastings around the UK, visit www.malbecworldday.com from 1st April or visit their Twitter profile - @malbecworldday or www.facebook.com/winesofargentina.
Chapel down winery in Kent is also open for a visit if wine lovers wish to learn more about how the first ever Argentine Malbec wine was made in UK. For further information, images or to visit Chapel Down please contact Elaine Monteiro at Branding Latin America on [email protected] – 0208 402 5472
Subjects
---
Food & Wine