Press release
July 16, 2010
Culture
British Touring Shakespeare to stage the world premiere of 'A Season Before The Tragedy Of Macbeth' by Gloria Carreno at the 2010 Camden Fringe Festival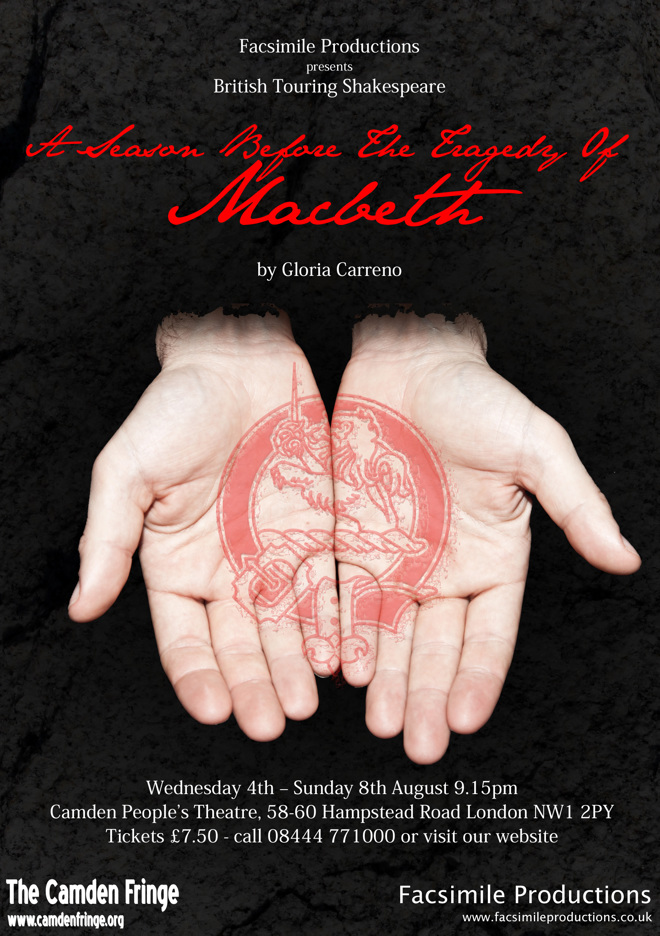 PRESS RELEASE
Facsimile Productions presents British Touring Shakespeare
A Season Before The Tragedy Of Macbeth by Gloria Carreno
As Part of the Camden Fringe
Camden People's Theatre
9.15pm
Wednesday 4th August to Sunday 8th August
All tickets £7.50
Ticket booking 08444 77 1000 orwww.camdenfringe.org


This exciting new play is set immediately before the events of Shakespeare's classic tragedy Macbeth. Authentic writing in the style of Shakespeare himself combines with painstaking historical research into the period concerned to shed dynamic new light on the characters of this well loved classic. Both tone and subject matter make this play an interesting approach to Shakespeare's theatre and the universal truths with which we must deal.
Gloria Carreno is an accomplished Scottish playwright who now lives in France. She made her playwriting debut in 1996 with The Last Suit which was staged by the Blasted Heath Players at the Edinburgh Festival and then toured the UK. Since then she has had numerous pieces staged in both the English and French languages, including Clash of Wills which was described as 'smart, sassy and intelligent' by Writernet, and Dreamlife which La Depeche Du Midi felt was 'a fine lesson in humanity and life'.
British Touring Shakespeare have performed to great popular and critical acclaim all around the world for over ten years. Remote Goat said of their most recent open air season that 'in an ideal world Shakespeare would always be performed by British Touring Shakespeare', while further afield Time Out Dubai reported that the company 'gives theatergoers a spectacle unrivalled in intensity and theatrical excitement'.
BTS Artistic Director Andrew Hobbs, who will direct this production, says 'we are honoured to be staging the premiere of this major new work which looks at the characters of such a well known play from a very exciting new perspective. As well as keeping the classics alive for audiences around the world, it is an important part of what we do to bring new Shakespeare-related material to the stage, and we are delighted to be working with an author of Gloria's stature at this year's Camden Fringe'.
For further information please contact Facsimile Productions on 020 7732 9926, email[email protected]or visit our websitewww.facsimileproductions.co.uk
For more information on the Camden Fringe please contact Michelle or Zena at the Etcetera Theatre: 020 7482 4857, [email protected]
Subjects
---
Culture