Press release
November 11, 2008
Construction
NEW MACHINES PUT STRAIGHT TO WORK IN SCOTLAND ON HAUL ROAD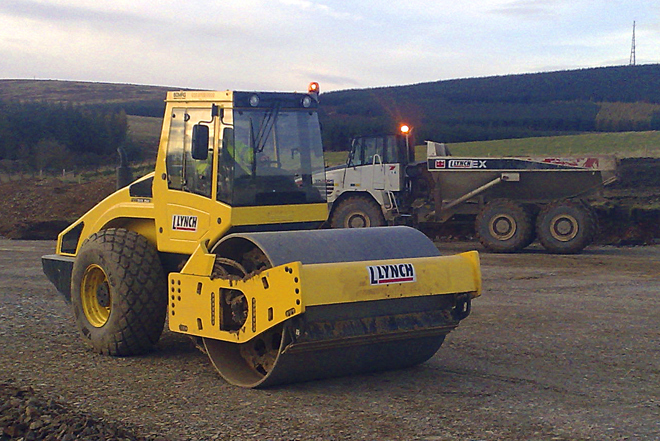 Lynch Plant Hire has recently added 3 new Bomag BW 213 single drum rollers to its extensive fleet. The machines were supplied by the Bomag Compaction Centre for the South East of England, Leach Lewis Plant. Lynch Plant has operated Bomag vibratory rollers for many years and currently run a number of BW 80, 90, 100 and 120 tandem vibratory rollers.
L Lynch Plant, based in Stanmore Middlesex, was formed in 1980 and it has since grown to become a leading name in the plant hire industry running a wide range of excavation and materials handling equipment.
The 13 tonne Bomag single drum rollers are powered by efficient 98 kW water cooled Deutz 'tier 111' engines with hydrostatic drive and articulated steering. The 3 machines were put straight to work on a major contract in Scotland where they are used to compact crushed stone for a haul road to a windfarm.
Lynch Plant Managing Director Merrill Lynch had this to say at the delivery of the new machines, which were handed over by Leach Lewis's Nick Anwyl, "We've run Bomag Tandems for many years and always found them popular with our customers, economical and reliable. When we needed bigger compaction machines it wasn't a difficult decision to stick with Bomag. Leach Lewis covers the South East and the other Bomag dealers provide good support too, when we need it, which isn't very often".
ENDS
Image © 2008 BOMAG GB. Permission for reproduction in the context of this release is granted.
EDITORS NOTES
BOMAG, part of the Fayat Group (French) since 2005, is the world market leader in compaction technology and now supplies milling and paving machines for road maintenance and construction. With four modern manufacturing plants (Boppard-Germany, Kewanee, Illinois-USA, Fengxian-China and Warrensburg, Missouri-USA) and 1,650 employees worldwide BOMAG manufacture 17 product groups from small 50 kg single direction plates to 55 tonne landfill compactors.
BOMAG supports its customers through eight sales and service subsidiaries (GB, Austria, France, Italy, Canada, USA, Japan and China), a sales office in Singapore and a comprehensive 500 plus world-wide dealer network. Our distribution network is supported by a central parts warehouse where over 40,000 lines are stocked and 'on-line' ordering is available 24/7 without exception. A network of Compaction Centres provides local customer support with experienced factory trained engineers and genuine BOMAG parts.
Issued by Dark Arts Marketing on behalf of Bomag (G.B.) Limited.
Contact, John Bradley. [email protected] 01332 856 999 or 07872 600 868
Subjects
---
Construction