Press release
January 20, 2016
Rattan furniture
Luxury and high quality shouldn't be comprised, which is why you are guaranteed both and at a price that you can afford with Moda Furnishings.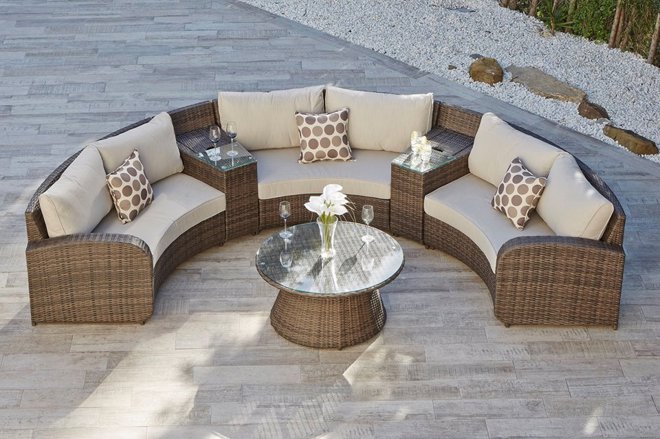 Moda Furnishings are one of the UK's leading rattan garden furniture retailers. They pride themselves on delivery high quality, made to last outdoor furniture; which is why each component has been carefully designed and manufactured to ensure the sectors remain durable and robust.
Moda believe that you shouldn't pay a fortune for the pleasure of owning high quality designer furniture, including rattan garden furniture, which is why all of their products are friendly on the wallet and boast an exclusive design. If you're looking for unique rattan garden furniture that you can't get in your everyday furniture shop that is affordable, then Moda are confident that they will tick off all the boxes. Not only will your garden be presented with luxury and stylish rattan garden furniture, but they'll come attached with a price tag that is 50% less than the high street chain equivalents.
You are guaranteed a unique experience and purchase with Moda, as all of their outdoor garden furniture items are designed by their expert in-house team. Moda have five beliefs when it comes to ensuring that their customers select and purchase their rattan garden furniture; quality, affordability, uniqueness, functionality and visual appeal. There isn't a more complementary feature to have in your outdoor area than with Moda's rattan garden furniture.
Gardens come in all shapes and sizes, which is why you're guaranteed to find the right piece of outdoor furniture that will best complement your garden. Moda have anything from 8 seat rattan garden furniture dining sets, to a range of sofa sets, day beds, garden accessories and there's even something for balconies.
If you wanted to pick up a bargain or two with some new and stylish rattan garden furniture, then you're in luck because Moda have an online exclusive 10% off.
It's not too early to start thinking ahead to the summer months; it's always good to be fully prepared and ready to enjoy warmer days. Warm sunshine is a rarity in the UK, it can happen in the middle of winter or it can happen anytime between April and September. The weather is unpredictable to say the least in the British Isles, which is why you shouldn't hesitate in putting off in treating your garden to new outdoor furniture during the cooler days. Plus, it gives you something to look forward and to ignore all the icy conditions, heavy rain and battering winds.
With a showroom based in Manchester and an exclusive online collection of outdoor rattan garden furniture, Moda Furnishings will have everything you need to fully expose your garden to your neighbours, friends and family, hosting the most stylish and unique selection of furniture. It's a collection that you won't want to miss out or should miss out on, and if you're looking for something unique that will put you one up above your neighbours, then shouldn't wait to have a look around Moda's collection.
Luxury and high quality shouldn't be comprised, which is why you are guaranteed both and at a price that you can afford. Browse through Moda Furnishings online exclusive online collection of rattan garden furniture or visit their showroom to see the furniture products first hand.
Subjects
---
Rattan furniture