Press release
November 11, 2008
Lifestyle
Don't let the Credit Crunch put you and your missus in the cold this winter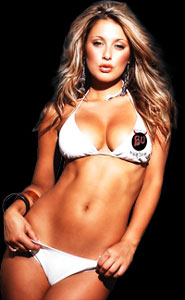 These are tough times for us all but if you are trying to impress a new girl it can be a total nightmare. Baduncle.com has some great money saving tips in order to stoke the fires of romance throughout this recession.
1. If it's a night out on the town you want, make sure you research the pubs and clubs for any deals and promotions before you go. Check out www.itcycity.co.uk for where the best deals are - with some forward planning you can easily cut your drinking bill in half.
2. Dinner date? Nothing impresses a girl more than a home cooked meal. It doesn't have to be Gordon Ramsey - it is definitely the effort that counts. Want to cheat? M & S are doing meal deals for £10, including 2 courses and a bottle of wine. This is a bit of cheesy suggestion but for that extra special touch present her with a printed menu with the title of your own made up restaurant.
3. Want to indulge her? Every girl loves to be pampered but instead of breaking the bank with a £125 spa day why not recreate it at home. Present her with your own homemade voucher entitling her to an aromatherapy massage, seaweed mask and foot scrub. Get down to Boots for the following: Sensuous massage oil for £4, Santuary Detox Mask for £1.79 and Santuary Foot Scrub for £4. Pick up a bottle of sparkling wine and remember the slices of cucumber in the water jub for that professional touch. Present her with a dressing gown, slippers and a glass of fizz when she arrives. And lastly remember to download a bit of Enya onto your ipod for true authenticity!
4. Lastly you definitely need to still spoil her! All girls love to receive presents. www.Baduncle.com is an internet gift service which helps you decide which gift to buy - so you get the perfect present. Baduncle.com also offers free delivery, personalisation and wrapping - saving you money and time. The present arrives as if you sent it and the gift is stylishly wrapped so she will be blown away by the effort you made (or didn't as the case may be!).
By following these simple money saving tips there will be no need to splash the cash in order to impress your lady, she will be putty in your hands!
Media Contact: Alison Burrell, Baduncle.com, 07977 343 477 or [email protected]
To find out more about the service visit www.baduncle.com or call 0844 335 1339.
ENDS
Notes to Editors
Baduncle.com is the first service of its kind in the UK. Customers are offered a complete and free personal gift shopper service which aims to take the stress out of gift shopping whilst also saving them time and money. After following our easy to use sign up process either online or by phone, Baduncle.com suggests an appropriate gift (selected by our expert retail buyers) tailored to the recipients details. A unique feature of the service is that Baduncle.com also provides the customer with an explanation as to why the gift is suitable; customers who have difficulty choosing the right gift greatly appreciate this aspect of the service. If the customer is happy to purchase our suggestion Baduncle.com will personalise, wrap and deliver the gift free of charge (the customer only pays for the gift itself). The gift is sent as if it came directly from the customer so that they receive all the credit. Customers are able to organise their gift shopping months in advance but the present still arrives at the time of the occasion. The purchasing team at Baduncle.com strive to source the highest quality of gifts and aim to support British industry wherever possible.
Subjects
---
Lifestyle