Press release
April 21, 2010
Construction
EARLY SUCCESS LEADS TO SECOND ORDER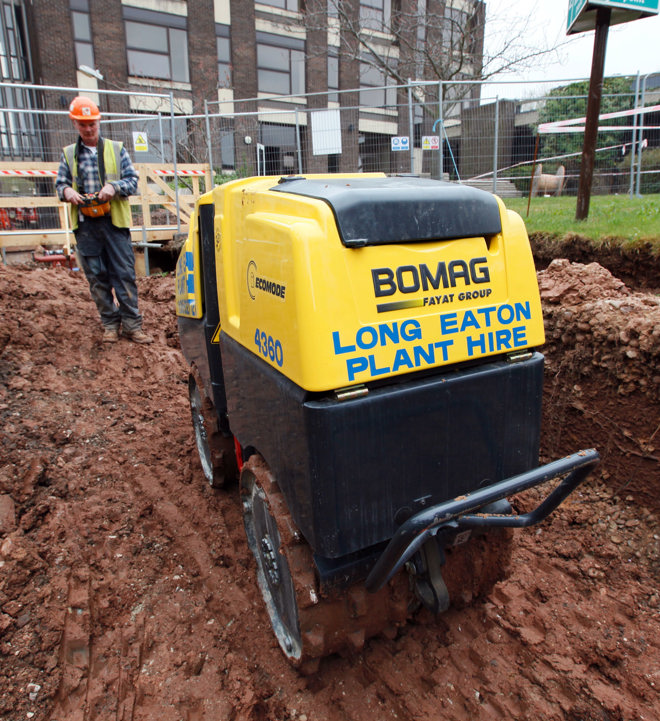 Long Eaton Plant bought one of the first Bomag BMP8500 articulated trench compactors to land in the UK and now after 3 weeks of working experience with the innovative machine they have taken delivery of a second unit. Long Eaton Plant has run Bomag Tandem Rollers for many years with the current fleet including several BW80, 100, and 120 models. Simon Denneny, a Director of LEP comments: "We've always found Bomag machines to be good performers and very reliable and our customers know and like them. Several of our civil engineering customers have recently been asking for trench compactors and when Bomag announced the new articulated model it was an easy decision to buy one. Initial customer feedback was so positive that we bought a second machine straight away and which will be out working this week".
The Bomag BMP8500 is a remote controlled 1,595kg articulated multi-purpose trench compactor ideally suited to continuous compaction duties in civil engineering and contracting applications. The first machine delivered to Long Eaton Plant is hard at work with Hallam Contracts on a site at the British Geological Survey headquarters near Nottingham. The Bomag BMP8500 is being used by remote control to compact sand and 'back-filled' soil in service trenches.
Powered by an efficient 14.5kW (19.4hp) 3 cylinder Kubota diesel engine that offers low noise levels, reduced exhaust emissions, and low fuel consumption the machine has Bomag ECOMODE control that optimises engine power to further reduce fuel consumption, exhaust emissions, and noise by automatically matching engine power to demand. The machine's design incorporates an articulated chassis that provides excellent compaction and travel performance. Versatility is assured with the supplied 'bolt-on' drum extensions that increase the operating width from 610mm to 850mm. Each drum has 2 scraper bars to remove material build-up.
Ease of operation and maintenance are benefits of all Bomag machines and the BMP8500 is no exception. The new machine is supplied with an integral radio remote control allowing the operator to work the machine at a safe distance and with zero hand arm vibration (HAV). The BMP8500 can tackle a range of demanding jobs including 'deep trench' applications in utility contracting, civil engineering and rail infrastructure work. The machine has excellent performance on-site with a centrifugal vibration unit that produces up to 72kN of force at 42 Hz with 1.1mm of amplitude. Both front and rear drums are hydrostatically driven and the machine has 2 forward and 2 reverse speeds. Four different compaction modes provide optimum and consistent compaction even in the toughest applications. Intelligent Vibration Control (IVC) automatically optimises working speed and vibration mode for consistent compaction results. The BMP8500 is ideally suited to compacting cohesive soils in excavation work, duct and pipeline construction, track and embankment work and in landfill cell construction. The machine has a maximum gradeability of 55% in travel mode and 45% with vibration on.
Routine maintenance is made easy with excellent accessibility provided by the front and rear canopies that swing open and an on-board diagnostic display that shows the health of the machine in real-time. The machine also has an integral lifting eye and front and rear tie-down points for safe handling and transportation. Vandal protection and safety is provided by centrally locking hoods. Safety is enhanced with a battery disconnection switch and an automatic engine cut-out and roll-over sensor.
The Bomag BMP8500 is available, like all Bomag 'Light' compaction products, from the network of 15 Bomag Compaction Centres around the UK. A range of competitive end-user finance schemes are available from Bomag Finance.
For more information go to www.bomag.co.uk
ENDS
EDITORS NOTES
BOMAG, part of the Fayat Group (French) since 2005, is the world market leader in compaction technology and now supplies milling and paving machines for road maintenance and construction. With four modern manufacturing plants (Boppard-Germany, Kewanee, Illinois-USA, Fengxian-China and Warrensburg, Missouri-USA) and 1,500 employees worldwide BOMAG manufacture 17 product groups from small 50 kg single direction plates to 55 tonne landfill compactors. BOMAG supports its customers through eight sales and service subsidiaries (GB, Austria, France, Italy, Canada, USA, Japan and China), a sales office in Singapore and a comprehensive 500 plus world-wide dealer network. Our distribution network is supported by a central parts warehouse where over 40,000 lines are stocked and 'on-line' ordering is available 24/7 without exception. A network of Compaction Centres provides local customer support with experienced factory trained engineers and genuine BOMAG parts.
Issued by Dark Arts Marketing on behalf of Bomag (Great Britain) Limited.
Image(s) Copyright 2010 Bomag (Great Britain) Limited. Permission for reproduction in conjunction with this release is granted.
For further information contact:
John Bradley, [email protected] 01332 856 323 or 07872 600 868 or
Faye Coton, [email protected] 01332 856 999 or 07855 053 081
Subjects
---
Construction