Press release
August 14, 2013
Business
London Shoeshine have time and time again increased their clients productivity and sales through their offering of exhibition shoe shine services.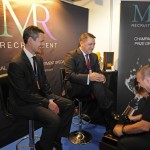 When you spend thousands of pounds to market your company's products and services at an exhibition you need to consider how to best engage potential clients and people walking past your display stand.
Many a business has tried and failed on more than one occasion to turn their exhibition investment into one that creates and excellent return on investment; time and time again they make the same old mistakes.
We have all seen the old tricks such as giving out umbrellas, USB drives, pens, tea mugs and the usual throwaway gestures; however none of these really impact on your time spent pitching to a potential client or getting them to actually listen to what you have to say.
London Shoeshine Limited, a leading London based shoe shine company who have been trading since 1994, might just have the answer to your exhibitions woes.
Their range of exhibition and conference shoe shine services will grab people's attention, get them to sit down, offer them a free top quality service and also have them listening to everything that you have to say in order to try and close a deal quickly.
Almost 100% of people attending conferences will be wearing their best suit and shoes to try and impress people themselves, what better way to impress someone than by offering them a top notch shoe shine service that will leave them feeling happy and giving your business a fantastic first impression; after all first impressions are what count.
Whilst your prospective client is enjoying a fantastic shoe shine you immediately have a captive audience to pitch and look to get on board.
London Shoe Shine offers booths to fit any size of display so any type of business in any sector can take advantage of this fantastic offering.
Why waste money and not get the response you are looking for? Make the smart choice and get in touch with London Shoe Shine today by visiting http://www.londonshoeshine.com, calling Jock on 0044 07863 122289 or by email [email protected].
London Shoeshine operate throughout London so please review their site and find the best location for you when you in and around the City - "The Shine On Your Shoes Tells The World Where You Stand.
Subjects
---
Business