Press release
December 13, 2008
PR
Light Tape, uses one tenth of the power and is less than half the price of Neon and Cold Cathode display lighting, it is easier to install and maintain, reduces light pollution, is fully recyclable, uses No Gas, No Glass and No Mercury.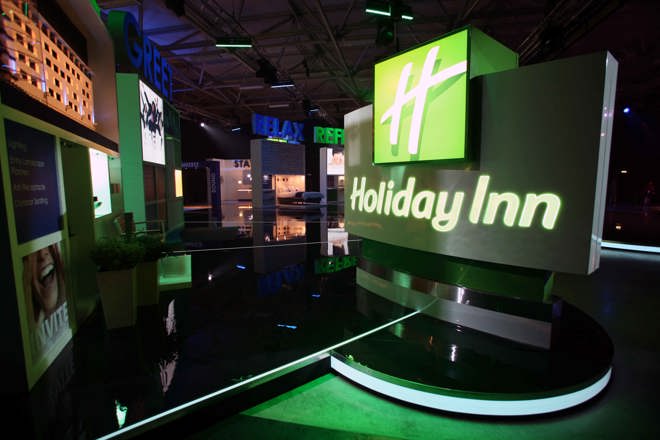 Light Tape scored a big success with the tapes being used to great effect recently as Floor Lighting at the Holiday Inn conference.
As well as being fitted to highlight the stage plinth, providing an easy to install, clean, ultra modern edge to the overall base of the structure, Light Tape was also used on the floor of the stage in a fan pattern producing a stunning, stylish platform from which the proceedings were presented.
Floorshield was used on top of the 1" wide strips of Light Tape, sealing them in place temporarily and providing a secure, flat, non-slip surface ensuring the safety of the presenters as they walked over the lit tape when moving across the stage
The installation of the Light Tape proved to be much easier than a more traditional form of lighting.
For example to get the same effect on the stage floor using Cold Cathode the bulb would have to be inset into pre-cut channels in the stage floor then covered with Perspex to protect it. Where as, due to the thinness (as thin as a business card) and durability of the Light Tape, it can be fixed on top of the flooring and sealed off with the Floorshield.
Add this to the fact that the reusable Light Tape is less than half the cost of Cold Cathode or Neon, uses less than 10% of the power (1 watt per Meter at 1" wide), has no glass, no gas and does not use heavy metals you have a truly unbeatable product.
Light Tape comes in a range of colours and widths and due to its inherent flexibility of use and cost effectiveness, is the modern, ideal solution for use in all forms of decorative display be it in a supermarket, Hotel, conference, exhibition, or on a stage.
What is Light Tape?
Light Tape is made up of metal ribbon coated in Sylvania phosphor and encapsulated in a Honeywell laminate. Light Tape has no glass, no gas, and no mercury/heavy metals and so is user and environment friendly. Light tape provides an 85% - 90% energy saving against other commercially available light sources such as Neon and Cold Cathode and due to its thinness (just 0.5mm thick, as thin as a business card) and being lightweight, affords inherent flexibility of use providing a neater, modern, space saving alterative that is easy to install with little to no maintenance and has a long working life.
The Light Tape for the Holiday Inn Conference was supplied and installed by London based Scena Projects Limited. www.scenapro.com
-ends-
For further information please contact: Mike Hardcastle, Managing Director,
Light Tape UK Ltd. 7 Meadowfield Drive, Hoyland, Barnsley, South Yorkshire. S74 0QE
Telephone: +44 (0)845 617 0697 Mob: +44 (0) 7899 790 669
email: [email protected]
Subjects
---
PR