Press release
March 14, 2016
Renewables
Petrol prices
Politics of energy
Circular economy
Environment
Sustainability
Smart grid
Plastic
Alternatives to oil
Peak oil
MANUFACTURING
Engineering
Recycling
Nuclear power
Pollution
Transport
Energy
Electric vehicles
Uses of oil
Politics of oil
Oil prices
Global warming
Buildings
Lively, informative book about oil - The VFUU Price of Oil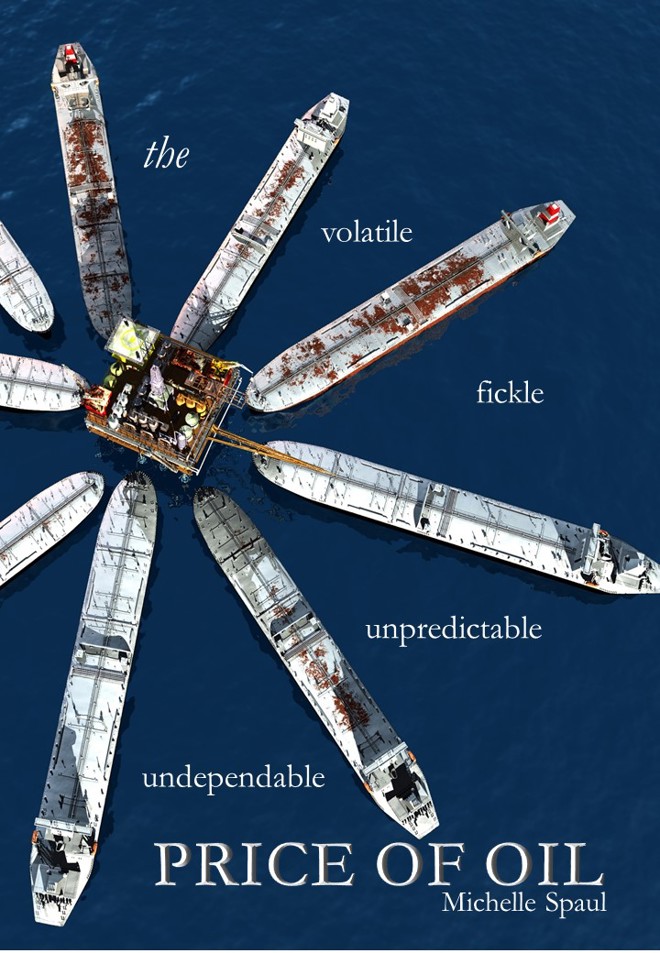 FOR IMMEDIATE RELEASE
DERBY, UNITED KINGDOM, 14 March 2016: Survey after survey shows that the British public would like to move away from oil, and yet we don't even discuss it. A new book pulls oil squarely into focus and into the public arena. Michelle Spaul launches The Volatile Fickle Unpredictable Undependable Price of Oil on 21 March 2016 via all major book retailers.
With a pacey and light-hearted tone,The VFUU Price of Oil helps readers explore the many uses of and alternatives to oil. At no point is the oil industry bashed or denigrated. Instead, we celebrate its role in our historically wealthy and healthy lives. And contrast those benefits with the economic and environmental implications of continuing our sticky habit.
Part historical narrative, part popular science, at all times inspiring,The VFUU Price of Oil takes everyone on a journey of discovery and realisation. Not only should we use less oil, but we can. It also asks who should lead the change - business, government or individuals?
Whether you enjoy literary non-fiction and or just want a say in the way we tackle our dependence on oil, The VFUU Price of Oil is for you. It costs £4.49 as an ebook and £6.99 in soft cover.
Note: Oil represents all fossil fuels and their rich chemical and economic relationships.
"Oil has served us well and stimulated the biggest growth and wealth creation in human history. The VFUU Price of Oil explains the role it has played and why it is time to wean ourselves off our addiction to oil."
Paul Polman | Chief Executive Officer, Unilever
About Michelle Spaul
Michelle is a chartered engineer (Member of the Institute of Engineering and Technology) and professional project manager (Member of the Association of Project Management). Her success comes from her ability to take complex information and explain the essentials, painting a compelling vision of the future and showing the way.
An innate curiosity and a compelling need to learn led to the research that inspired this book. Indeed, answering questions is a constant source of enjoyment and the words 'let's Google it' are never far from her lips. Michelle prefers reading and writing non-fiction.
###
Subjects
---
Renewables
Petrol prices
Politics of energy
Circular economy
Environment
Sustainability
Smart grid
Plastic
Alternatives to oil
Peak oil
MANUFACTURING
Engineering
Recycling
Nuclear power
Pollution
Transport
Energy
Electric vehicles
Uses of oil
Politics of oil
Oil prices
Global warming
Buildings