Press release
August 19, 2010
Lifestyle
When was the last time you forgot an important birthday? E-cards have made it possible to send an instant greeting, and now, thanks to UK based internet retailer Chocolate Now! you can go one better and send instant chocolate gifts by Text Message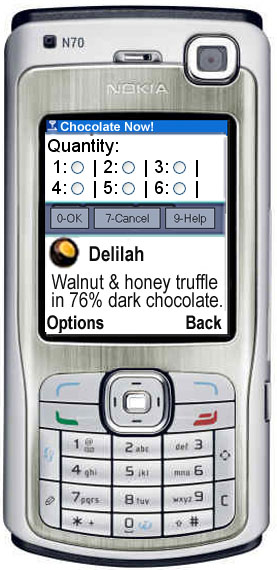 Chocolate Now!'s ground-breaking "TxtChocs" allow the recipient to choose exactly what chocolates they want in their box, using their mobile phone. To parody Forrest Gump, a box of chocolates no longer has to be like life! Chocolate Now! boss Nigel Croft comments, "Why pay good money for a chocolate selection and always have two or three left that nobody likes? Our unique service lets you have any combination of chocolates, and it is great fun choosing them too."

Using the Chocolate Now! website - www.chocolate-now.co.uk- the purchaser chooses the size of box, and selects a gift wrap style, from a range of over 30 unique designs. They can then include a personal message and once payment is made, a Text Message is sent to the recipient telling them that they have received a gift, and explaining how to claim it.

The person receiving the gift then selects their chocolates, either using their mobile phone, or online with a laptop or PC. There are over 40 Belgian chocolates to choose from, so there really is something for everyone.

END
About Chocolate Now!:
Chocolate Now! is a family run internet retailer, based in Cornwall, UK which specialises in luxury chocolate gifts. They also supply wedding favours and corporate gifts. They deliver to the UK and Western Europe.

Any publication wishing to offer an exclusive 15% discount to their readership should contact Chocolate Now! for a promotional code.

In addition to TxtChocs, Chocolate Now! also offer "self-select" boxes, where the purchaser can create their own chocolate selection, or for people in a hurry, there is also a range of standard chocolate selections. You can buy their chocolate gifts online at www.chocolate-now.co.uk

You can try this bit yourself on your own mobile - there is a free demo at txtchoc.com/demo - it lets you fill an 8-chocolate box, just the same as if you had received a TxtChoc gift, but unfortunately, you don't get free chocolates at the end.

Once the chocolates have been chosen, the box is packed and gift wrapped by hand, and sent out by the next available post - usually arriving the following day.

A unique feature of all Chocolate Now! products is the wide range of design-led gift wrap options available. "Convenience is a growing trend in the gift sector, many consumers opting for a gift bag, rather than wrapping their presents," says Croft. "Our service saves a lot of time, particularly when ordering online, because it allows the completed gift to be sent direct to the recipient."
Contacts
---
Subjects
---
Lifestyle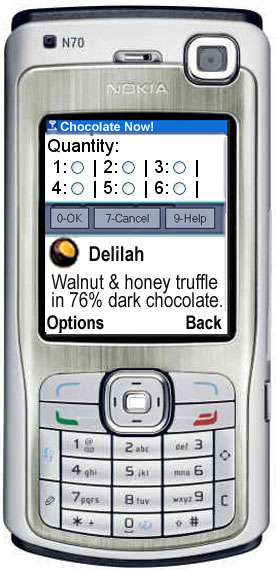 Choosing chocolates using an ordinary mobile phone
Download | 0.07 MB | 570 x 277 | .jpg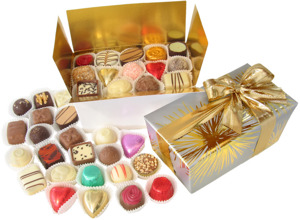 Box of 36 chocolates with "Gold Starburst" giftwrap
Download | 1.29 MB | 2215 x 3022 | .jpg
Choosing chocolates on an iPhone
Download | 0.09 MB | 728 x 387 | .jpg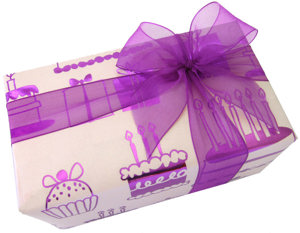 "Birthday Cakes" Giftwrap - one of over 30 exclusive giftwrap styles.
Download | 0.74 MB | 2201 x 2830 | .jpg
Zip and download all files