Press release
January 28, 2010
Construction
CESAR STANDARD ON 2 POPULAR MODELS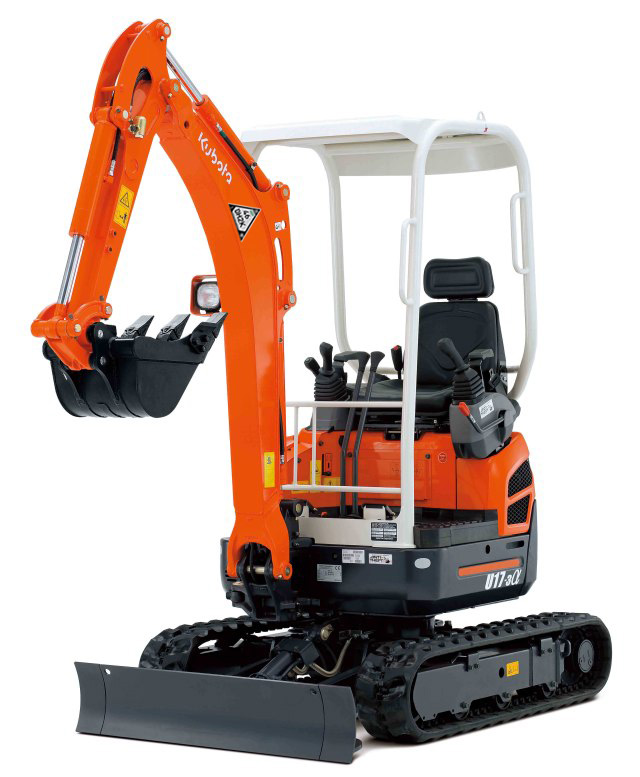 Kubota, the market leader in the UK mini-excavator market, has begun to fit the CESAR® registration and security system to two of its popular excavator models. The machines are the U17-3, a 1,650kg mini-excavator, and the KX080-3, a 8,300kg midi-excavator. As a consequence of the move both machines qualify for the recently introduced '3 star' security rating from the Insurance Industry Research Establishment, Thatcham.
The 3 stars, out of a possible 5, were awarded to Kubota for registering their machines with CESAR®, for having a unique ignition and immobiliser key, and for the machines being equipped with an integral immobiliser which locks the fuel, electrical and hydraulic systems.
A 'digger' is 44% more likely to be stolen than a car in the UK and overall recovery rates are as low as 5% compared to over 53% for stolen cars. New statistics issued by The Plant and Agricultural National Intelligence Unit (PANIU) based in Scotland Yard show that a machine without CESAR® is 4 times more likely to be stolen than a registered machines.
The recovery rate for 'unregistered' plant is as low as 5% but the recovery rate for stolen CESAR® machines has increased to nearly 30% in 2009, 6 times that for 'unregistered' plant.
CESAR® registration allows the police to check on a construction or agricultural machine in exactly the same way as they would a car through the police national computer (PNC). Police forces up and down the country are already equipped with Datatag scanners that can 'read' the hidden transponders in a machine to help identify the rightful owner even if the registration plates have been removed.
Chris Harrison, National Sales Manager for Datatag, had this to say; "It's great to see a manufacturer of Kubota's standing taking such a proactive approach to plant security. Plant theft is rife and it's up to the industry as a whole to tackle the problem. CESAR is making a real difference and the more people using it the better. Thatcham approved security devices, of which CESAR is one, make a machine less vulnerable and therefore a lower risk for an insurer which is now rewarded with lower insurance premiums".
Richard Harrison, Sales Manager for Kubota in the UK commented at the announcement; "Our new 'Anti-Theft Plus' package is the most comprehensive available and now with the Thatcham seal of approval and '3 star' rating on two of our models our customers know that their new Kubota is as safe as possible. However, our customers can specify CESAR as an option on the rest of the Kubota range. Our customers will also benefit from lower insurance premiums and as we know, in these tough times, every little helps"!
ENDS
EDITOR'S NOTES
Datatag ID Limited, a market leader, is a privately owned British company that has operated in the security market since 1992. Its products have helped to drastically reduce the rates of stolen property. Datatag security markings and systems are widely used on motorcycles, scooters, bicycles, boats, jet skis and agricultural and construction equipment.
Illustrating the effectiveness of Datatag security products the UK Crown Prosecution Service has a 100% successful prosecution record where Datatag has been used as evidence in court. Critically, Datatag provides a telephone service to the Police and its customers, 24 hours a day, 7 days a week enabling marked equipment to be identified.
Datatag supply a range of security marking products including Datadots®, Datatag DNA and a variety of transponders or 'tags'. In the construction market Datatag manages the CESAR equipment registration scheme. CESAR is shorthand for the Construction Equipment Security and Registration Scheme. CESAR is supported by the Construction Equipment Association (CEA), the Plant Theft Action Group (PTAG), the Home Office, the Association of Chief Police Officers (ACPO), major insurance companies and local authorities. CESAR is a dedicated scheme designed to significantly reduce the theft of construction equipment, both large and small, and to aid recovery in the event of theft.
CESAR offers a positive opportunity for all construction and agricultural equipment manufacturers, machinery dealers, plant hirers and owners to register their equipment under a single scheme. Crucially CESAR registers equipment on the DVLA's Off Road Register (ORR) which gives the Police instant access to the data via the Police National Computer (PNC).
Datatag is accredited to ISO 9000:2000 and LPS 1224 standards. Its database has "Secured by Design" status under ACPO and Home Office accreditation, one of the highest security accreditations in the UK.
Datatag® and Datadots® are registered trademarks.
For more information see the following web sites:
www.cesarscheme.org
Issued by Dark Arts Marketing on behalf of Datatag ID Limited.
Contact, John Bradley. [email protected] 01332 856 999 or 07872 600 868
Or Faye Coton. [email protected] 01332 856 999 or 07855 053 081
Subjects
---
Construction