Press release
March 25, 2008
Lifestyle
Artist Raychel Perks is used to making peoples' dreams come true - she has transformed clients into mermaids, fairies and wizards.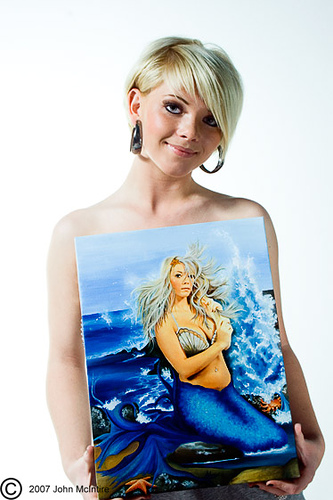 At her Barnsley-based Raynbow Studio, Raychel specialises in Artography which is the art of printing photographs onto canvas or watercolour paper and over-painting by hand in oil, acrylic or watercolour to create a fantasy image.
Anyone can be transformed into his or her favourite mythical figure or alter ego. Recent examples include a baby as a fairy, a young boy as a wizard, and two best friends as a sexy angel and devil.
The client can provide original photos or photographs can be taken by Raynbow Studio.
Tamara Frost was transformed into a mermaid by Raychel and was delighted with the result.
She said: "I loved the idea of being a mermaid and I was amazed when I saw the final painting. It is something unique that I can keep forever."
Clients receive a unique and personal service and Raychel works closely with them to create a bespoke artwork from a shared imaginative process.
Raychel has been drawing and painting for more than 30 years and is skilled in a range of styles including watercolour, gouache, oil, acrylic, pastel, pencil and airbrush.
She studied General Art and Design and forged a successful career as a graphic designer before founding Raynbow Studio last year.
Raynbow Studio is building up a national reputation through the internet and trade/consumer fairs.
Contacts
---
Subjects
---
Lifestyle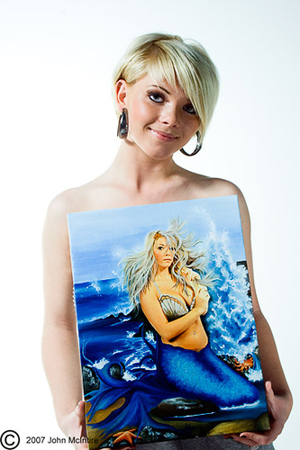 Tamara with her finished painting
Download | 0.09 MB | 500 x 333 | .jpg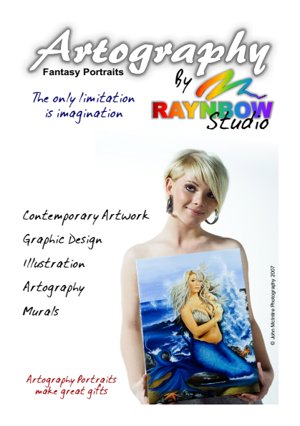 Artography Flyer
Download | 0.7 MB | .pdf
Zip and download all files