Press release
December 3, 2012
Tourism
iBooknow.com invites all travellers to take advantage of their discounted room rates and instant booking confirmation with no hidden fees for the 2012-2013 New Year's Eve Celebrations in London. Party the night away and enjoy London's nightlife on the biggest evening of the year. Don't be left out in the cold, book now and be in ENgland for the festivities.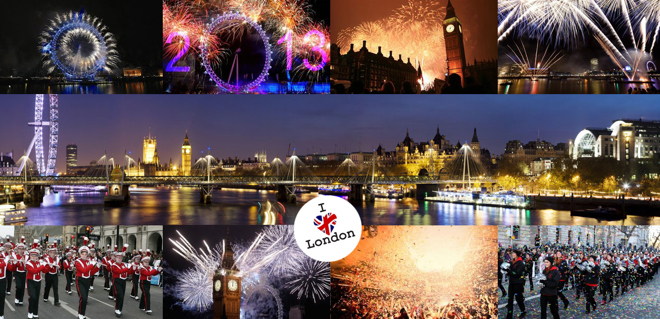 iBooknow.comhas traveled the world and partied in the hippest cities and London has always been a favorite of ours. Dining, drinking, partying and watching the fireworks in London for New Year's Eve are something not to be missed. The Olympics may be over, but the spirit remains and this year's New Year's celebration will help to see out the spectacular year with a colossal bang!
Start the evening off with a fantastic dinner, watch the fireworks display at mid-night, and then party in the New Year. Possibly a party cruise on the Thames is more your thing and there are many to choose from as well as disco and club parties all over the city.
If you do make it back to your hotel for a few hours' sleep make sure you wake up on time to see the famous New Year's Day Parade, a London tradition for the last 26 years.
New Year's Eve Fireworks:
The highlight of the evening is the fireworks display that the city of London puts on and launches from the foot of the London Eye and from rafts on the Thames River. London's display is world-class and iBooknow.com doubts you could find a better city to see such a spectacular.
Although the display is visible from most of central London there are some vantage points that are special. But as long as you can see the extraordinary 135 meters tall London Eye you will see the show. The greatest views are from Victoria Embankment, the South Bank, the Westminster Bridge and Waterloo Bridge. For details about this year's show visit the official website: www.london.gov.uk/newyearseve.
Great London Fireworks Vantage Points:
Heron Tower
Oxo Tower Wharf
Paramount, Centre Point
South Bank
Victoria Embankment
Waterloo Bridge
Westminster Bridge
Many folks like to see the display from the river and taking a dinner and party cruise along the Thames on New Year's Eve is a memorable event. Be certain to book early as these cruise tickets have a tendency to go fast.
Thames River Cruises: New Year's Ever 2012-2013
Avontuur Party Cruise
Clifton Castle Party Cruise
Connaught Party Cruise
Henley Party Cruise
King Edward Party Cruise
London Rose Party Cruise
Princess Freda Party Cruise
Queen Elizabeth Party Cruise
Royalty Party Cruise
Valulla Party Cruise
Viscount Party Cruise
Clubbing Into 2013:
Regardless of which city you choose to celebrate in clubbing can be fun and a great way to spend the night with a group of friends. London's night scene is famous for its clubs, discos and raves and on New Year's they pull out all the stops and do their best to make it the event of the season. Browse the Internet and see which one most appeals to you, make a reservation, and check with iBooknow.com to reserve a hotel room close to your party's venue.
A Short List of Clubs to Check Out on New Year's Eve in London:
Ace Cafe
Arches
Barbican
Battersea Park
Belle Epoque
Bunker
Cable
Cargo
Compass
Cordy Hall
Coronet Theatre
Dogstar
East London Warehouse
Electric Ballroom
Electric Brixton
End
Fabric
Feet East
Forum
Ginglik
Grand Union
Hearn St Car Park
Home Bar
Islington Academy
Lightbox
Lion
Ministry Of Sound
Nest
O2 Brixton Academy
Plan B
Royal Festival Hall
Scala
Seager Storage Units
Sebright Arms
Sidings
Silver Bullet
Star Of Bethnal Green
Tief
Troxy
Village Underground
XOYO
New Year's Day Parade - London January 1, 2013:
If you are in London with the family New Year's Day is a great family day when you celebrate the start of the New Year at the 27th New Year's Day Parade which will be held throughout central London.
The parade, which features thousands of performers in the heart of London, has been a seasonal highlight for the past 26 years and this year's parade will be just as much fun and enjoyable. The parade route will include such historical London landmarks as Piccadilly Circus, Regent Street, Trafalgar Square and Westminster Abbey. The parade will start outside the Ritz Hotel and end up on Parliament Street. The parade is also a charity fundraising event and on that day over a million pounds will be raised for London charities.
The three hour parade will include both local and international participants. Dancers, clowns, musicians and puppeteers will be among those taking part. This year there will also be jazz bands, classical music, and choirs among the 10,000 performers and one of the parades highlights are the marching bands from around the world that will all join in.
The parade commences at Piccadilly Circus at the junction of Berkeley Street outside the Ritz Hotel, and takes a two mile route past Piccadilly Circus, Lower Regent Street, Waterloo Place, Pall Mall, Cockspur Street, Trafalgar Square, Whitehall and Parliament Street.
Beginning at 11.45am on the morning of Tuesday January 1st outside the Ritz Hotel, and finishing up at 3pm at Parliament Street, the parade will be televised around the world, but book your rooms now and don't be caught watching it on the TV, see it in London.
AboutiBooknow.com
iBooknow.comwas established in 2008 as a one-stop destination for people wishing to book holidays and business trips around the globe. iBooknow.comoffers a wide range of services to our customers, including discounted hotel bookings, car hire and exclusive promotional pricing not found anywhere else through our industry network and partnerships.

From the start, iBooknow.com has always been more than just a travel site. The staff at iBooknow.com care deeply about the reputation of the company, and they will always go the extra mile to ensure that you have a great stay as you travel around the world.

Unlike other travel sites, the prices that iBooknow.com offers include all fees and charges up front. With iBooknow.com, what you see is what you get. iBooknow.com will always make sure that you are getting the cheapest possible room rates, so there is no need to trawl through dozens of sites to find the best available deal.

iBooknow.comhas continually grown and progressed to servicing a worldwide clientele who travels globally, but they still treat every customer as if they were a guest in their home. iBooknow.com's experience servicing traveler's needs and requests is philosophically local, but global in scope. Travel and Hospitality are their passions.
###
Subjects
---
Tourism