Press release
December 26, 2009
Lifestyle
Customers queue early to be the first in to the new Tottenham Court Road store on 26th December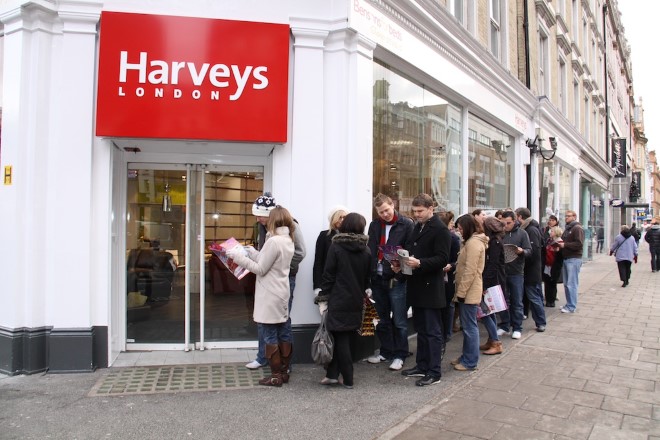 PRESS RELEASE
For immediate release
The new stylish furniture ranges on sale in the new Tottenham Court Road store that opened today, Boxing Day hit everyone by surprise with queues outside as the store opened.
Susan Howard, the first in the queue at the new store said:
"I just work around the corner and so I saw the store when it was being set up. I saw some really trendy styles in there that I wouldn't have expected Harveys to sell and so I couldn't resist coming down early to make sure that I was able to get hold of some at the great sale prices".
Karen Broderick, trend watch expert at Harveys commented:
"We just couldn't believe the response from the public, particularly with the store opening in the middle of the Christmas holidays. It just shows great furniture designs at fantastic prices will always be a winner with the canny London shopper!"
Harveys is located on Tottenham Court Road, in the site where Cargo was previously located by Goodge Street tube station.
-ENDS-

For more information and prices please contact:
Karen Broderick or Jon Wightman at Harveys
T: DD - 01708 802885 SB – 01708 869146
E: [email protected] or via www.HarveysFurniture.co.uk/press.html
Some images also available at <http://www.prshots.com/?i=57139>

Notes to editors
A Harveys spokesperson is available for comment
Harveys is the largest furniture specialist in the UK with 150 stores and a fully transactional website
Harveys stock a diverse range of lounge, dining and bedroom furniture as well as complimentary accessories
For your nearest Harveys store please visit <http://www.HarveysFurniture.co.uk> or call 0870 120 4848
To view product online, please visit HarveysFurniture.co.uk.
Contacts
---
Subjects
---
Lifestyle