Press release
January 25, 2016
Ultrasonic cleaning
Guyson will be showcasing technologies from its blast finishing and ultrasonic cleaning equipment ranges of industrial finishing equipment at Southern Manufacturing & Electronics exhibition 2016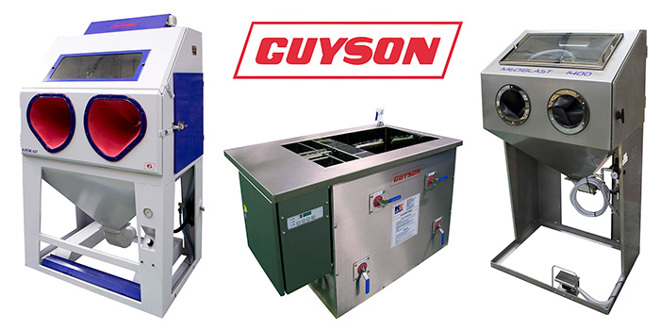 Guyson International (Q14) will once again be attending the Southern Manufacturing & Electronics exhibition, to be held at Farnborough between the 9th and 11th February 2016. This year Guyson will be showcasing technologies from its blast finishing and ultrasonic cleaning equipment ranges of industrial finishing equipment and the stand will be staffed by their local Southern based sales engineers to provide full technical assistance.
Equipment shown will include the highly versatile, industrial quality Euroblast® 6SF manual blast cabinet which features front, top and side opening doors to the blast chamber, giving superb access for ease of parts loading. Guyson suction fed blast cabinets are often chosen for applications such as paint, rust and heat scale removal, deburring, surface preparation prior to bonding, anodising or plating, and for imparting a wide range of value adding cosmetic finishes to a variety of glass, metal or plastic products and also to products created using rapid prototyping, 3D printing or Additive Manufacturing techniques.
Also on the stand, will be a fully 316L stainless steel constructed variation of their Formula 1400 cabinet. This 'Mediblast' version showcases the type of high-end specialist manual cabinet that Guyson offers for blasting medical and dental implants – where no ferrous contamination can be tolerated. Guyson's 'Mediblast' stainless steel blast cabinets are available in both manual and automated options to cover all production volumes.
In addition to these suction fed ranges, Guyson also offers pressure fed blast cabinets for heavier duty industrial cleaning applications such as mould cleaning and casting investment removal or for any blast application where faster processing is required. A full range of automated blast systems, including robotically controlled, is also available from this well respected UK-based manufacturer.
Also on display will be their UCR 450 ultrasonic clean and rinse tank. The 'Kerry' branded UCR range comprises four standard heated aqueous ultrasonic cleaning tank sizes, offered with wash tank capacities from 21 up to 131 litres, coupled with an immersion rinse tank (of a matched capacity) weiring to drain, and a hand held spray gun for final rinse. All tanks are robustly constructed using AISI 316L polished stainless steel for durability, while Kerry ultrasonic generators ensure powerful parts cleaning and long equipment life. UCR tanks operate at 38 kHz (±10%) as standard but they can also be specified with the optionalKerry Guysonic generator with Primewave® controls which allow switchable dual frequency (36/66 kHz ±10%) and variable power control.
Typical uses of these ultrasonic clean and rinse tanks include production cleaning for the removal of oils, swarf, polishing compounds, brazing flux, solder flux, carbonised deposits and moulding residues; the refurbishment of computer, photocopier and engine components; and the maintenance of mould tools, extrusion dies, printing components, saw blades and cutting tools, surgical instruments, electronics assembly system parts and small machine components.
Complementing the larger ultrasonic tank will be a selection of smaller Kerry MKC ultrasonic baths, all of which can be programmed to maximise the quality and repeatability of results, allowing the user to pre-set both cleaning times and temperatures, thus ensuring consistent levels of cleanliness from batch to batch and providing an affordable way to provide quality precision cleaning for a diverse customer base such as optical and electronic manufacturers, medical, dental and technical workshops and aerospace and metal-finishing subcontractors.
The MKC units can thoroughly remove swarf, oil, grime, flux and other contaminants from a wide range of new and refurbished components, including those with highly intricate shapes. And with ultrasonic cleaning being inherently gentle, this makes it particularly suitable for less robust products such as printed circuit boards or precision parts. MKC baths are available in capacities of 6, 14 and 22 litres to suit different workloads.
About Guyson
Guyson International Limited is a privately owned family company with a world-wide reputation for excellence in the design and manufacture of blast finishing, spray wash and ultrasonic cleaning equipment. Formed over 75 years ago, the company is registered to BS EN ISO 9001: 2008 and BS OHSAS 18001:2007, and its head office is located at Skipton, North Yorkshire, in the north of England. Guyson has four international subsidiary companies: Guyson Corporation of the USA, located in Saratoga Springs, New York State; Guyson SA, situated near Paris, France; Guyson Sdn Bhd in Penang, Malaysia; and Guyson CN, in Wuxi, Jiangsu Province, China.
Subjects
---
Ultrasonic cleaning