Press release
April 7, 2016
Guyson has recently installed a two metre square Euroblast blast cabinet, into Ansaldo Thomassen Gulf's (MRO) workshop in Abu Dhabi, for grit blasting gas turbine blades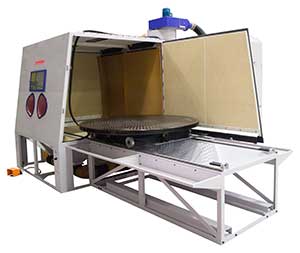 Guyson International, the Skipton based industrial finishing equipment manufacturer, has recently manufactured and installed into Ansaldo Thomassen Gulf's gas turbine maintenance repair and overhaul (MRO) workshop in Abu Dhabi, a two metre square Guyson Euroblast pressure fed blast cabinet for the grit blast removal of oxide layers and coatings from a selection of gas turbine components.
Ansaldo Thomassen Gulf are a longstanding Guyson customer and have numerous other Guyson blast cabinets, including automated blast systems, sited in their new 'centre of excellence' for the repair and refurbishment of gas turbine rotating blades and other gas turbine components. This latest machine installation is a two metre square pressure fed Euroblast blast cabinet, fitted with two side doors (the left hand one to only provide access for undertaking maintenance and changing settings) and a side loading frame fitted with a moveable polyurethane coated turntable. Completing the system is a G55/12 pressure pot cyclone reclamator and model C800 twin cartridge dust collection unit.
Grit blasting the surface of the gas turbine components is undertaken with aluminium oxide blast media being fired at the component, the blast stream being generated by the Guyson G55 Pressure Pot (55 litres). Pressure fed blast systems can be up-to four times faster at blasting than suction fed, so ideal for industrial applications where a fast turnaround of components is required.
A Guyson CY600/12 cyclone reclamator located on top of the pressure pot is used to separate out re-usable blast media from dust, blast debris and undersized media. It does this by extracting, through a hose, everything from the bottom of the blast cabinet, the lighter particulates are drawn off to the Guyson model C800 cartridge filter dust collection unit, whilst the heavier good re-usable blast media flows back to the pressure pot, thus reducing the possibility of contamination by abraded particles and debris in the media which could reduce the consistence of finish.
Potential customers looking for manual or automated blast systems are encouraged to submit sample components for free feasibility testing to the company's extensive development workshop at Skipton, England.
About Guyson
Guyson International Limited is a privately owned family company with a world-wide reputation for excellence in the design and manufacture of blast finishing, spray wash and ultrasonic cleaning equipment. Formed over 75 years ago, the company is registered to BS EN ISO 9001: 2008 and BS OHSAS 18001:2007 and its head office is located at Skipton, North Yorkshire, in the north of England. Guyson has four international subsidiary companies: Guyson Corporation of the USA, located in Saratoga Springs, New York State; Guyson SA, situated near Paris, France; Guyson Sdn Bhd in Penang, Malaysia; and Guyson CN, in Wuxi, Jiangsu Province, China.