Press release
October 30, 2014
Guyson blast cabinet
Surface finish 3D prototypes
Guyson International has recently installed a Formula 1400 blast cabinet into a leading additive manufacturing company for surface finishing 3D prototypes.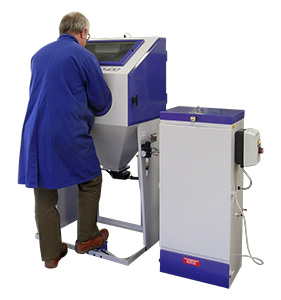 Industrial finishing equipment manufacturer Guyson International has recently installed a Formula 1400 blast cabinet complete with a micro tipped Pencil Blaster into 'FDM Digital Solutions' - a leading additive manufacturing company located in the north west of England - for surface finishing 3D prototypes.
In its 3D printing production processes FDM Digital Solutions uses production grade thermoplastics, the same materials as those used for most conventionally made injection moulded parts - unlike many prototype producers who use Stereolithography (SLA) or Selective Laser Sintering (SLS) resin based materials. This means they can achieve a higher degree of build accuracy, durability and repeatability.
The Guyson Formula blast cabinet and Pencil Blaster have been installed to enhance the surface finish of these 3D prototypes by providing a range of possible bead blasting options including the creation of a variety of cosmetic surface finishes, the removal of small step lines created during print production and also the production of a more paint or coating receptive surface, achieved by removing the smooth shine off plastic prototypes and replacing it with a finely controlled textured surface that improves subsequent adhesion.
The Guyson Formula blast cabinet range comprises four strong and durable steel cabinets, that are ideal for light industrial applications or when blasting is required on an intermittent basis. All use the industrial quality model 400 blast gun, which can be tailored to suit air supplies of between 8 and 16 CFM when blasting at 80 PSI.
The F1400 has a full height side opening door on the right hand side of the cabinet and has internal cabinet dimensions of W 815mm x D 560mm x H 591mm, large enough to accommodate most prototypes. Blasting is controlled by foot pedal, thus leaving both hands free to manipulate parts under the blast nozzle when the nozzle is positioned in the gun holder or leaving one hand free to hold the gun and the other to rotate the part. The Guyson F21 dust collector comes as standard with this cabinet. All Formula blast cabinets have sealed gauntlet gloves, a protected toughened glass viewing window and a quick release media changeover facility; the latter proves useful if a variety of different blast media is used.
The optional Pencil Blaster can be supplied with any Formula cabinet and this adds the facility to clean delicate or intricate components using the ultra-fine micro nozzle. This compact pressure fed unit is externally fitted and uses a hardened nozzle, operated by a separate foot pedal.
For further information about the range of Guyson blast cabinets available or to undertake free component trials on your prototypes please contact Guyson's Customer Service Department on 01756 799911.
Subjects
---
Guyson blast cabinet
Surface finish 3D prototypes