Press release
September 18, 2009
Energy & Environment
It is believed this well has a total of 70 feet of productive gas sand in four intervals. The Number 12 should be as good as or better than any other well in the Pancho Wilcox Field.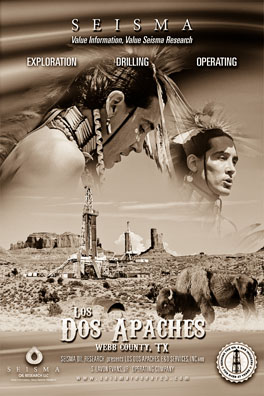 Noord, Aruba - September 18 , 2009 -- Results of the log on Seisma Energy Research AVV's industry partner Evans Energy's Los Dos Apache's No.12 were very encouraging with four sands that should produce gas and an additional four zones of interest that will soon be tested.
The logging company ran logs on September 15 and 16, 2009. This survey included induction, SP, gamma ray, neutron, and density curves. Depths were surveyed in detail from 4,500 to 8,844 feet. Logging began at 6:00 PM September 15 and completed at 2:30 AM September 16.
It is believed this well has a total of 70 feet of productive gas sand in four intervals. The Number 12 should be as good as or better than any other well in the Pancho Wilcox Field.
No major revisions will be needed in the structural maps. Considering the results of this log it is probable that at least three additional producers will be drilled.
When asked to comment on this latest find a spokesperson for Seisma Energy Reserach AVV had this to say, "We have been anticipating good news coming out of Webb County, on the Los Dos Apaches #12 drillsite, but to hear that the geologists feel that the potential is what they have stated is more than encouraging. Results like this come as no surprise to us when we partner with experienced drillers like Evans Energy."
:: About Seisma Energy Research AVV
When called upon to bring their partners preeminent and technically sound state-of-the-art oil and gas-drilling programs to market, Seisma Energy Research AVV continues to deliver, barrel upon barrel.
Seisma was conceived, engineered and placed to become a global conduit for an increasingly demanding industry. Seisma Energy Research AVV has already surpassed its primary expectations by expanding partnerships and opening world markets and is now forging ahead within new partnerships and associations.
Through their unique brand of corporate management they are able to offer opportunities to prospective investors that have, until their arrival in the market place, been historically unattainable by many of their partners around the globe. Supported by decades of executive experience, industry knowledge and relationships and the best technology on offer, Seisma Energy Research AVV continues to develop and expand their partnerships and portfolio of energy focused investments.
Seisma's principal responsibility to its investors is to intelligently acquire, operate, explore, exploit and develop oil and gas properties.
Their portfolio includes production, exploration, pipelines and water rights. With a new value added emphasis on renewable energies such as ethanol and bio diesel they continually strive to be among the cutting edge of this industry's leaders.
Seisma's operations are carried out predominantly in the Mid-Continent Region, Permian Basin, and Gulf Coast/Gulf of Mexico. Their partners are positioned around the globe, and by having preferential access to Seisma's research they are enabled to actively participate in Seisma's growth. Their success is wholly based on the enthusiasm, commitment, and talent of their people. The ethos of their corporate culture is one of integrity, innovation, accountability and team effort.
:: About Evans Energy (E2)
Through generations of experience, E2 has developed, drilled, and/or produced hundreds of wells across the country. Being a strong independent Evans Energy has its own rigs and can mobilize them at any time, and to almost any location.
Evans Energy takes enormous pride in their drilling teams and rigs. With a "safety first" attitude their Rig Managers and Hands are all highly motivated professionals dedicated to the success of every prospect.
:: Where They Have Been
S. Lavon Evans, Jr. founded and created S. Lavon Evans, Jr. Operating Company, Inc. in January of 1989 and the rest, as they say is history.
The company has a rich history of hundreds of successful wells across Mississippi, Alabama, Tennessee, Kentucky, Ohio, Louisiana and Texas.
From pioneer wildcatting in the Black Warrior Basin to the swamps of South Louisiana and the wide open spaces of South Texas, Lavon built his company along with a reputation of honesty, hard work and a knack for knowing a good prospect. Lavon is a true "oilman" and his company is true Oil & Gas. Today, the company Lavon founded has evolved to become Evans Energy.
Evans Energy considers itself to be a hydrocarbon hound dog. Lavon and his team have seen literally thousands of prospects. Experience has taught them to recognize some of the most subtle geological problems that can determine a well's success or failure. There are a lot of "so-so" prospects out there and finding the best risk vs. reward opportunity only comes through practical experience and trusted advice. They are not newcomers. Their years of doing business in the "oil patch" have created lifelong friendships that are priceless business allies and prospects that are crème de la crème.
For More Information Please Contact:
Seisma Energy Research AVV
Montanja Plaza 238
Noord, Aruba
Phone: +297.583.2834
Fax: +297.583.2835
Website: http://www.seismaresearch.com/
Secure Web Form for Inquiries: https://www.seismaresearch.com/contact/index.html
This press release / email may include forward-looking statements as defined by the Securities and Exchange Commission. Such statements are those concerning forecasts, estimates, expectations and objectives for future operations. Such statements are subject to a number of assumptions, risks and uncertainties, many of which are beyond the control of the company. Statements regarding future production, reseradditions and capital expenditures are subject to all of the risks and uncertainties normally incident to the exploration for and development and production of oil and gas. These risks include, but are not limited to, inflation or lack of availability of goods and services, environmental risks, drilling risks and regulatory changes. Investors are cautioned that any such statements are not guarantees of future performance and that the actual results, or developments, may differ materially from those projected in the forward-looking statements. The above mentioned program has been fully funded and is not available to new investors.
###
Subjects
---
Energy & Environment