Press release
January 10, 2017
Danmark
Candles
Nordic scents
Barbed ltd
Nordic design
Søren Møller
Graham Sterry of Barbed Ltd
One of the world's leading perfumers
Nordic lifestyle
Scented candles
Emmanuel Martini
Nordic exclusivity
Nordic culture
Denmark
Ester & Erik
Frensh perfume expert
French fragrance expert
Graham Sterry
In close cooperation with a recognized French fragrance expert, manufacturer of hand-dipped candles steeped in tradition now launches an exclusive line for the UK market.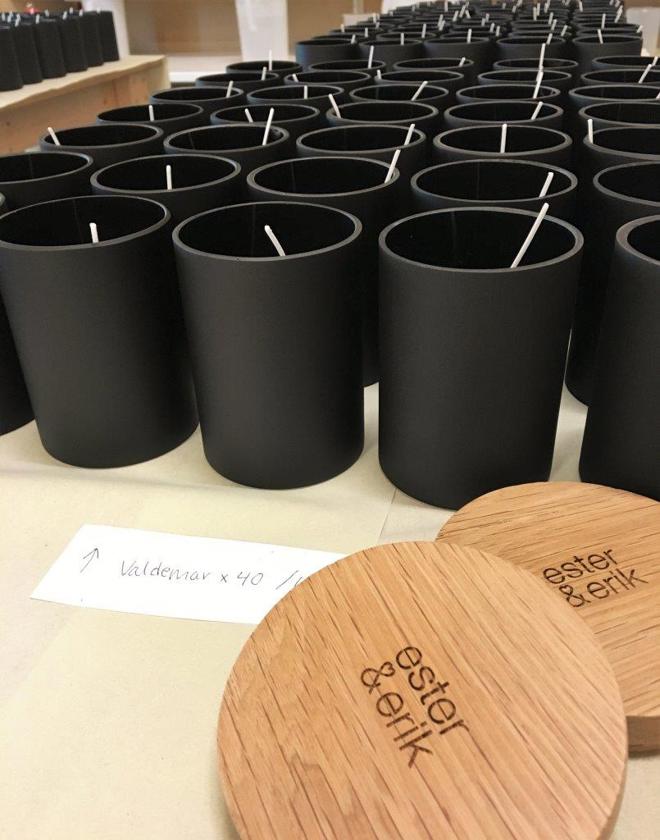 The UK is among the world's top consumers of scented candles. Therefore, the traditional Danish candle manufacturer ester & erik has decided to introduce the Britons to a new and exclusive series of eight candles boasting Nordic scents.
– We have experienced a massive increase in demand for scented candles over the last couple of years. Therefore, we are very excited that Emmanuel Martini, one of the world's leading perfumers, has worked with ester & erik to launch a scented candle range to augment their beautiful taper candles,says Graham Sterry of Barbed Ltd, the UK agent of ester & erik.
Emmanuel Martini is an acclaimed French perfume expert who has extensive experience in creating scented candles targeted at individual markets around the world.
Nordic living under your skin
The eight candles of the new range come in two sizes and are sold in custom-designed, hand-blown glasses with a wooden lid. Thus, even before they are opened and lit, the candles exude Nordic exclusivity and design. Emmanuel Martini had full creative freedom to develop the eight scents, and the Frenchman has wholeheartedly assumed the task. He even moved to Denmark for three months to be inspired.
– The aim of the scented candles is to signal Nordic lifestyle. It was, therefore, important for me to live in Denmark and get to know Nordic culture to make the best compositions. The technical process is the same as always, but the feeling is different when I create Nordic scents. The loveliest ones are developed in close cooperation with the Danes, says Emmanuel Martini.
He spent many hours in Nordic nature to find and combine the right notes.
– A scent is like a chord in music. Some are complex with over 90 different notes, while others are simple and consist of only a handful. In Denmark, I have tried to explore the cool watery scents. Like when I sat on a beach and experienced the mingling scents of a large rosehip bush, the warm sand and the sea. Together, they created an incredibly beautiful sensory input, the fragrance expert concludes.
The new series of scented candles has just launched in the UK.
ester & erikof Denmark started producing hand-made candles in 1987. Since then, with the vision of cultivating proud traditions of craftsmanship, the couple Ester and Erik Moeller have developed and produced exclusive candles for a demanding worldwide clientele. The company mainly sells to florists and interior stores through its UK sole agent, London-based Barbed Ltd.
Subjects
---
Danmark
Candles
Nordic scents
Barbed ltd
Nordic design
Søren Møller
Graham Sterry of Barbed Ltd
One of the world's leading perfumers
Nordic lifestyle
Scented candles
Emmanuel Martini
Nordic exclusivity
Nordic culture
Denmark
Ester & Erik
Frensh perfume expert
French fragrance expert
Graham Sterry

Download | 0.02 MB | .docx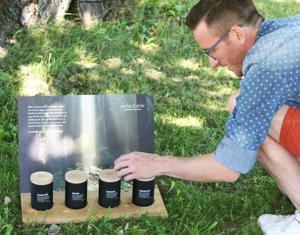 At a photo session, Emmanuelle Martini applies his finishing touches to the work he spent the last year creating. Photo: PR.
Download | 0.24 MB | 1004 x 1280 | .jpg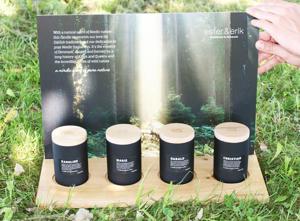 The line of scented candles consists of eight different scents with each of their names taken from the Danish Royal Family. The candles come in two sizes – all in specially designed glass with an exclusive wooden top. Photo: PR.
Download | 0.24 MB | 943 x 1280 | .jpg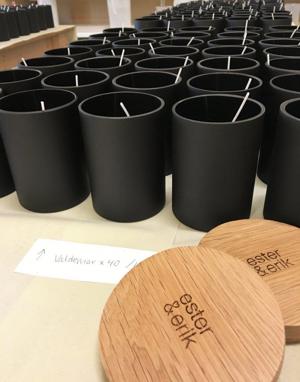 The production of ester & erik's new exclusive line is well under way. The company has great expectations for the European venture. Photo: PR.
Download | 0.09 MB | 1024 x 805 | .jpg
Zip and download all files