Press release
March 13, 2013
Tourism
If you travel to browse and shop iBooknow.com invites you to book one of their discounted room rates with instant confirmation and no hidden fees for Marrakech, Morocco. It may sound mysterious and exotic but there is no secret to how fantastic the shopping can be in Marrakech.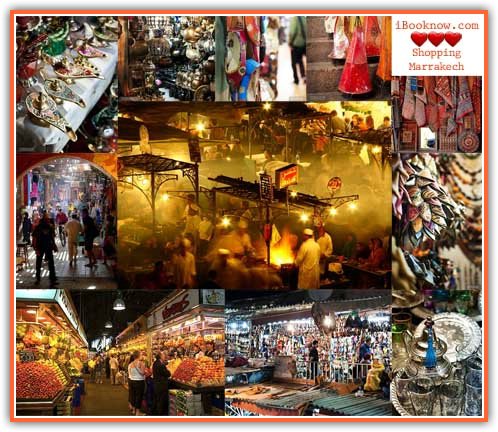 Marrakech (Marrakesh), Morocco, a city of over one million people has become a favored destination not only for its pleasant Mediterranean like weather, fantastic history and culture, and its fantastic eclectic shopping. The rewards are high, but shopping in Marrakech isn't for the fainthearted.
Established in the 11th century, Marrakech has long attracted foreigners with its North African mystique. Although many tourists travel to Morocco to see its historical buildings and marvel at its rich culture many go to Marrakech simply to shop till they drop. In the neighborhood known as Guéliz, a Euro-style area with heavy French influences modern-day shoppers in recent years have found a labyrinth of hassle-free shopping in fixed-price boutiques that come as a longed-for respite after the bargaining and wrangling in the more traditional souks. For those who are more brave at heart, and seek the traditional bargaining and local color of the Jamaa el Fna a square and market place in Marrakesh's medina quarter of the old city.
Whichever kind of shopper you may be, iBooknow.com offers you the best hotel booking deals close to the old markets and modern shopping centers. In the old city you can stroll through the maze of stalls and workshops and witness the local craftsmen hammering and welding, carving wood, and sewing. If you prefer a more "sane" environment to shop for your complexly inlaid cedar boxes, twinkling silk babouche slippers, bottles of spices, tribal jewelry, and wrought iron lamps step outside the medina's walls in Guéliz and venture onto the avenue Mohammed V where you will not only find chic boutiques offering trendy Euro-fashions and everything from leather and beauty products, distinctive homewares and African-Oriental antiques and objets d'art amongst the shops offering traditional tapis, better known to foreigners as carpets.
http://www.ibooknow.com/Africa/Morocco/Marrakech
If all of this seems confusing to you, iBooknow.com suggests picking up a copy of Susan Simon's Shopping Marrakech, a great read that is filled with advice for negotiating the markets of Marrakech on your own. Here is a varied short list of a few places that have been known to satisfy every shopper's addiction:
Acima
Akbar Delights
Al Kawtar
Amira
Aswak Assalam
Atelier Moro
Aya's Where
Ben
Boutique Bel Hadj
Ensemble Artisanal
Herboriste Avicenne
Jardin
Karim Tassi
Khalid Art Gallery
Laetitia Trouillet
Lalla
L'Art du bain
L'Art du Bois
Marjane Hypermarket
Moor
Mustapha Blaoui
Place Rahba Kedima
Place Vendôme
Souk Btana
Souk Cherratin
Souk Chouari
Souk des Chaudronniers
Souk des Teinturier
Souk el Attarin
Souk Haddadine
Souk Larzal
Souk Semmarine
Souk Smata
Souk Zrabia
The Kissarias
Log on now to iBooknow.com and start planning your shopping holiday in exotic Marrakech, Morocco.
AboutiBooknow.com
iBooknow.comwas established in 2008 as a one-stop destination for people wishing to book holidays and business trips around the globe. iBooknow.comoffers a wide range of services to our customers, including discounted hotel bookings, car hire and exclusive promotional pricing not found anywhere else through our industry network and partnerships.

From the start, iBooknow.com has always been more than just a travel site. The staff at iBooknow.com care deeply about the reputation of the company, and they will always go the extra mile to ensure that you have a great stay as you travel around the world.

Unlike other travel sites, the prices that iBooknow.com offers include all fees and charges up front. With iBooknow.com, what you see is what you get. iBooknow.com will always make sure that you are getting the cheapest possible room rates, so there is no need to trawl through dozens of sites to find the best available deal.

iBooknow.comhas continually grown and progressed to servicing a worldwide clientele who travels globally, but they still treat every customer as if they were a guest in their home. iBooknow.com's experience servicing traveler's needs and requests is philosophically local, but global in scope. Travel and Hospitality are their passions.
###
Subjects
---
Tourism