Press release
February 11, 2013
Tourism
If you travel to eat iBooknow.com invites you to book one of their discounted room rates and instant booking confirmation with no hidden fees for Marrakech, Morocco. It may sound mysterious and exotic but there is no secret to how good the food is.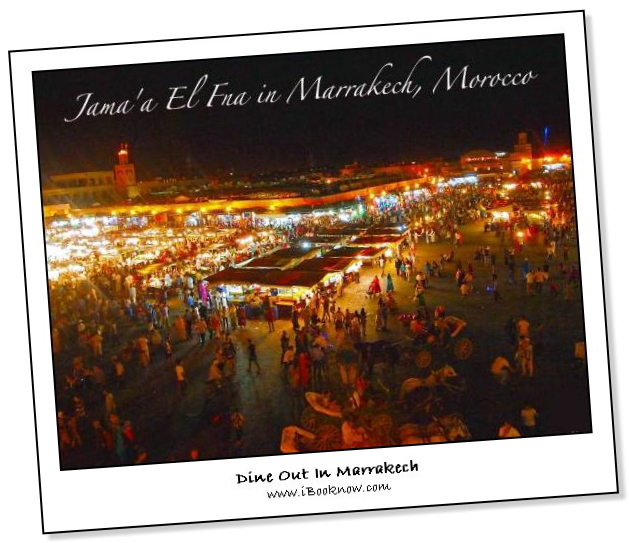 Marrakech (Marrakesh), Morocco, a city of over one million people has become a favored destination not only for its pleasant Mediterranean like weather, fantastic history and culture, and eclectic shopping, but for its food. We know you will find Morocco to be the perfect destination for dinning and food adventures. The cuisine of Morocco is a blend of many drawn from the kitchens of its multi-ethnic and inter-cultural inhabitants and visitors. Moroccan cuisine has distinct influences of the Berbers, Moors, Arabs, and French as well as the rest of the Mediterranean region.
The cuisine is made up of fruits and vegetables common to the area, as well as beef, mutton and lamb, chicken, camel, rabbit and seafood. Moroccan dishes are seasoned with lemon pickle, cold-pressed, unrefined olive oil and dried fruits, as well as saffron, mint, olives from Meknes, and oranges and lemons from Fez. With the addition of cinnamon, cumin, turmeric, ginger, pepper, paprika, anise seed, sesame seeds, coriander, and parsley the food you will find in Marrakesh will be spicier than those on most other Arabic menus.
iBooknow.comsuggests that after you've checked in to your hotel and gotten refreshed that you go out exploring. Sure the food in your hotel is good, but the whole reason for traveling to Marrakech is to get out and about and explore. One of the best places to go looking for local cuisine prepared fresh and with flair is the market of Djama El Fna. This huge sprawling market area is dedicated to food and the stalls there contain every Moroccan specialty you can imagine and have savored from afar.
iBooknow.com suggests that you go right into the center of the market square where the food is less expensive than the stalls that surround the area at the perimeter. The stalls are numbered so that visitors can find their way around easily and we will suggest that while you are looking around for a place to eat that you take note of any particular stalls you find of interest so you can find your way back them if you choose.
Every evening in the Djemaa El-Fna you can stroll through the long aisles of food vendors which are under enormous white tents. Most of the stalls prepare similar fare and keep an eye out for their menus which are in French, Arabic and most often English. The most popular dish is Tajine, and all the other well-known Moroccan standbys such as couscous, brochettes, and a broad variety of soups are also on most menus. Be aware that although the food stalls at Djemaa El Fna display the price on the menus many will bring starters to you without asking and then charge for them at the end. If you are worried about being charged for food you have not ordered just politely ask the price of the dishes as they are brought to you.
http://www.ibooknow.com/Africa/Morocco/Marrakech
One of the best aspects of going to eat in Djama El Fna is that it is a place for the locals, and not specifically for tourists, so the taste is most always authentic and the prices reasonable. The food is hygienic and safe to eat, and if you drink bottled water you should have no problems when dinning there. All the vendors in Djama El Fna are inspected and licensed by the government not just for the comfort of Moroccans, but also so assure travelers that everything is safe to eat.
What you eat and how much you will pay is up to you, but a simple snack of bread filled with spicy grilled sausages is as little as Dh 10. For about Dh 100 you can enjoy a three-course meal of salad, bread, an appetizer, a main course, and tea which is most often an aromatic blend of ginseng tea with cinnamon and ginger. For a more sumptuous and involved meal expect to pay Dh 600 to 1,000.
AboutiBooknow.com
iBooknow.comwas established in 2008 as a one-stop destination for people wishing to book holidays and business trips around the globe. iBooknow.comoffers a wide range of services to our customers, including discounted hotel bookings, car hire and exclusive promotional pricing not found anywhere else through our industry network and partnerships.

From the start, iBooknow.com has always been more than just a travel site. The staff at iBooknow.com care deeply about the reputation of the company, and they will always go the extra mile to ensure that you have a great stay as you travel around the world.

Unlike other travel sites, the prices that iBooknow.com offers include all fees and charges up front. With iBooknow.com, what you see is what you get. iBooknow.com will always make sure that you are getting the cheapest possible room rates, so there is no need to trawl through dozens of sites to find the best available deal.

iBooknow.comhas continually grown and progressed to servicing a worldwide clientele who travels globally, but they still treat every customer as if they were a guest in their home. iBooknow.com's experience servicing traveler's needs and requests is philosophically local, but global in scope. Travel and Hospitality are their passions.
Subjects
---
Tourism