Press release
February 25, 2010
Construction
MARCH INTRODUCTION OF CESAR ACROSS THE CAT RANGE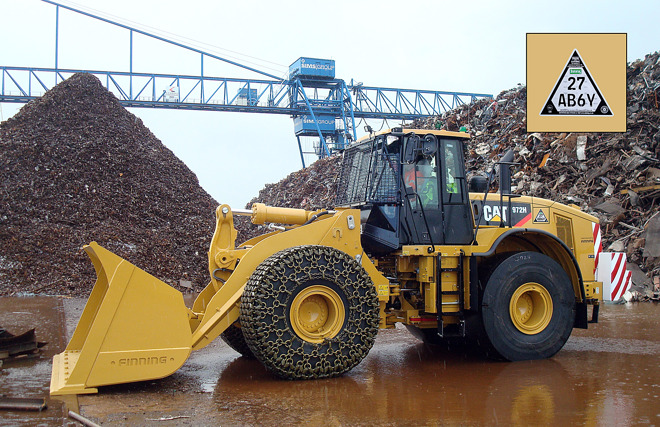 Finning, the UK's sole supplier of Caterpillar® equipment, has today announced that it will fit the official CESAR plant registration and security system to all new Caterpillar machines that it supplies from March 1st.
With over 26,000 machines registered in construction and agriculture CESAR, supported by the Home Office and the British Machinery Insurers Association, is the market leading scheme providing a powerful deterrent against theft and an assured way of identifying a machine in the unlikely event of theft. Statistics compiled by the insurance industry funded Plant and Agriculture National Intelligence Unit show that CESAR registered machines are 6 times more likely to be recovered in the event of theft, than unregistered machines, and 4 times less likely to be stolen in the first place.
Finning engineers will fit CESAR, at the pre-delivery stage, to the full Caterpillar product line-up from the smallest mini-excavator to the largest rigid dump truck. As such this will encompass the widest product range of any original equipment manufacturer fitting CESAR as standard, including as it does machines in 20 product groups including tracked and wheeled excavators, wheeled loaders, articulated dump trucks, telescopic handlers, and crawler tractors up to 104 tonnes in weight. The news from Finning comes hot on the heels of a major new initiative by the company-Lastability, a scheme designed to save the construction industry £10m this year. CESAR is another aspect of this concept helping to minimise the cost and disruption caused by plant theft. Customers of new Cat machines can be assured that their investment is protected and CESAR brings the added benefit of reduced insurance premiums from many leading insurers.
Finning (UK) Sales Support Manager Tim Ballard said: "Finning has recognised that deterring plant theft is an important consideration for the industry as a whole and therefore we have acted on recent advice from a number of sources to implement a step change as part of our 'Lastability' promise to the industry. As we explore further options with Caterpillar and other leading security suppliers we will evaluate additional options for customers".
Kevin Howells, an expert on security marking and registration and a Director of Datatag, had this to say about the announcement: "I'm delighted that Finning has adopted CESAR for Caterpillar machines as Cat is one of the most respected brands in the world. The concept of CESAR, namely providing an effective deterrent against theft and an invaluable aid in recovery, fits perfectly with Finning Lastability. Official figures show the marked effectiveness of CESAR as a deterrent and an assured aid in recovery and I'm certain that the many Caterpillar customers up and down the country will benefit from this important step by Finning".
Finning engineers have already been trained by the Datatag team to fit CESAR and the first Caterpillar machines with the now familiar triangular registration plates will roll out of Finning's Cannock preparation centre in early March.
For more information see the following web sites:
ENDS
EDITOR'S NOTES
Datatag ID Limited, a market leader, is a privately owned British company that has operated in the security market since 1992. Its products have helped to drastically reduce the rates of stolen property. Datatag security markings and systems are widely used on motorcycles, scooters, bicycles, boats, jet skis and agricultural and construction equipment.
Illustrating the effectiveness of Datatag security products the UK Crown Prosecution Service has a 100% successful prosecution record where Datatag has been used as evidence in court. Critically, Datatag provides a telephone service to the Police and its customers, 24 hours a day, 7 days a week enabling marked equipment to be identified.
Datatag supply a range of security marking products including Datadots®, Datatag DNA and a variety of transponders or 'tags'. In the construction market Datatag manages the CESAR equipment registration scheme. CESAR is shorthand for the Construction Equipment Security and Registration Scheme. CESAR is supported by the Construction Equipment Association (CEA), the Plant Theft Action Group (PTAG), the Home Office, the Association of Chief Police Officers (ACPO), major insurance companies and local authorities. CESAR is a dedicated scheme designed to significantly reduce the theft of construction equipment, both large and small, and to aid recovery in the event of theft.
CESAR offers a positive opportunity for all construction and agricultural equipment manufacturers, machinery dealers, plant hirers and owners to register their equipment under a single scheme. Crucially CESAR registers equipment on the DVLA's Off Road Register (ORR) which gives the Police instant access to the data via the Police National Computer (PNC).
Datatag is accredited to ISO 9000:2000 and LPS 1224 standards. Its database has "Secured by Design" status under ACPO and Home Office accreditation, one of the highest security accreditations in the UK.
Datatag® and Datadots® are registered trademarks.
For more information see the following web sites:
www.cesarscheme.org
Issued by Dark Arts Marketing on behalf of Datatag ID Limited. Contact: John Bradley [email protected] 01332 856 323/07872 600 868 or Faye Coton [email protected] 01332 856 999/07855 053 081
Subjects
---
Construction