Press release
March 1, 2011
Business
For several decades the name EXHAUSTO has been synonymous with providing ventilation systems and mechanical chimney fan systems of the highest quality. The chimney fan systems will be known under the name "exodraft" from the 1st of March 2011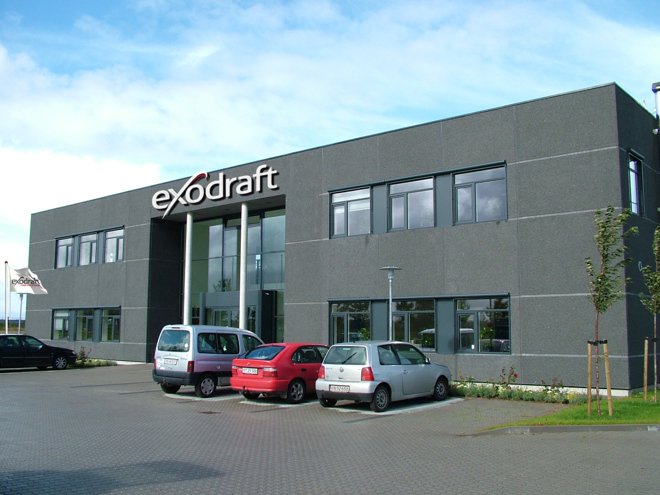 This is the last stage in the process of the sale of the former associate company EXHAUSTO A/S to VKR Holding.
"The name EXHAUSTO will be phased out by no later than October 2012 for our chimney fan systems, and so we have decided to change it from the 1st of March", says Alan Moore, National Sales Manager. "Our products and organisation are not changing; it is only the name and logo that are new."
A solid and optimistic company
The company is the world's leading supplier of chimney fan systems.
"We are a well-consolidated company that has come through the global financial crisis in good shape. Our new name and logo radiate both our pro-active attitude and optimism. We have no reason to be anything else than very confident for the next chapter in our history, says Alan Moore.
"Our products are known for high quality and safety, and we are setting the standards and requirements for chimney fans. There is still great potential for the sale of mechanical chimney fans, for reasons such as a greater requirement for optimum combustion, more compact space requirements and reduced CO2 emissions".
The history behind exodraft
EXHAUSTO was founded by the Hermansen family in 1957 with a newly developed chimney fan for tiled stoves and paraffin burners. From this modest beginning, the company developed into the world leader in chimney fan systems. In 1963 the company also moved into the ventilation business. This area of operations then developed swiftly, and in 2010 the ventilation division and the EXHAUSTO brand were sold to VKR Holding. However, the chimney fan division of operations, which was separated in 2007 into the company EXHAUSTO CDT, was not included in the sale.
The original product, the chimney fan, has celebrated its 50th anniversary, and the current product programme is based on many years of experience and a vast knowledge of combustion and chimney draught.
EXHAUSTO Ltd., now to be known as exodraft Ltd., is a subsidiary of the still family-owned international exodraft group with branch offices in 6 countries and exports to more than 40 countries across the world.
Subjects
---
Business