Press release
December 11, 2012
Family
As quickly as we are buying the latest gear for our little ones, they are growing out of them just as fast. Of course they are fab at the time & fun for our children, but don't you just wish the products could grow & evolve with them, or be made a little better so they lasted longer!?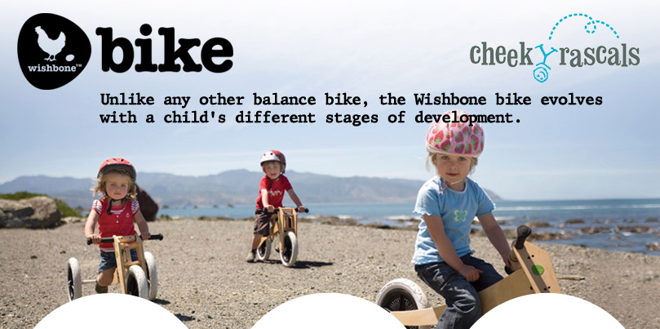 Here at Mini Social, we were completely delighted when we came across a forward thinking company, Cheeky Rascals; who aim to improve the parenting experience by bringing practical, innovative products to the market that children love and enjoy.
Stocking a whole host of quality products, we were stopped in our treads, when we saw the award winning Wishbone 3 in 1 Bike that they stock! This product is just what we were looking for to relieve the strain and expense of keeping up with products of our ever growing little gems. The clever Wishbone design lasts three stages of childhood, converting from super stable & lightweight trike for age 1, to a two wheeled balance bike for ages 2-3, onto the largest 'running' bike on the market for ages 4-5. Beautifully crafted from environmentally sustainable ash and birch, the Wishbone is strikingly funky with a slick streamlined design.
Many young children can get frustrated with trikes and their pedals that get in the way, and are often rarely used. The clever Wishbone designers decided to remove the pedals all together, to allow Children to brake with their feet freely, and focus on learning to steer and balance instead.
This magnificent bike is super stable, allowing even the youngest of riders to enjoy the freedom and independence of it, and because it evolves with your child as they develop and grow, you can tie the purse strings for a few more years!
To win one for your little one, head over to Mini Social where they have teamed up with Cheeky Rascals to offer one of these fab Wishbone 3 in 1 bikes to a very lucky winner.
"Wishbone have delivered an enduring new toy that could reduce the number of toys in a home. A perfect birthday or Christmas present which promises to become a family heirloom."
Subjects
---
Family