Press release
October 7, 2015
Wood-burning stoves are just so cozy. Well, unless you consider the hassle of lighting them and the smoke wafting through the room as you light the fire or put on more firewood. The smoke is not just annoying, but can also be a nuisance if anybody in the home is allergic.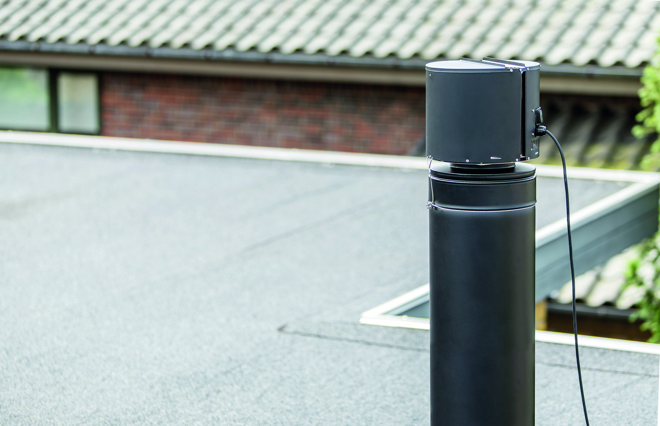 Usually, the problem does not originate in the wood-burning stove, but from the chimney, which often has too little draft to get rid of the smoke. Fortunately, this problem is now easily solved – with the Draftbooster chimney fan.
You install the Draftbooster on the chimney of the house, and when turned on, it immediately creates a good draft in the chimney. This makes it easy to light a fire in the wood-burning stove. Furthermore, it makes the fire burn better, warming the house faster. And the smoke? Well, it disappears out the chimney, not into your living room.
The Draftbooster is the first plug n' play chimney fan on the market. It comes with a 5-meter cable and plug – ready to plug into the 240V mains power. At the same time, it comes with a remote control, so you can turn the chimney fan off and on as needed – even while you have a good fire going in the wood-burning stove.
The Draftbooster chimney fan, which was developed and produced in Denmark, fits steel, clay chimney pots and masonry chimneys and is currently available in black.
The Draftbooster will be made available in the U.K. through the usual distribution channels, giving the ability to purchase for most of those working in the fireplace industry and for the retail outlets to service the end users.
See more at Youtube: www.draftbooster.co.uk
More information available by:
Phone at +44 (0) 7801 862 036
E-mail: [email protected]
Web: www.draftbooster.co.uk
Link to YouTube video: https://www.youtube.com/watch?v=eb2NkSWphmA
Link to Facebook page: https://www.facebook.com/draftbooster.uk

Image text: The Draftbooster chimney fan is easily installed on the chimney – and makes it easy to light the fire while preventing smoke escaping into the living room from the wood-burning stove.