Press release
August 7, 2013
IT
What element of a website has the greatest importance if merchants wish to boost their online sales?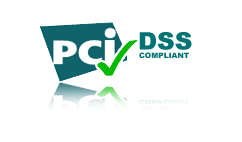 One might be tempted to suggest the 'shopping cart' facility, ease of navigation through the various product or service categories or even engaging and informative product descriptions. However, the true fundamental step in turning a mere catalogue site into a fully-fledged e-commerce one is, in many ways, the addition of a payment card facility.
Shoppers in sectors ranging from furnishing and tourism to fashion make use of their payment cards on a routine basis on both major and lesser-known e-commerce websites, but there is a certain acronym that needs to be at the forefront of the mind of any merchant with an interest in accepting payment cards online: PCI DSS.
PCI DSS explained
PCI DSS stands for Payment Card Industry Data Security Standard, and if a business wishes to accept a card payment online, it needs to ensure the compliance of its e-commerce website with this standard. It really is that simple. The security requirements, as were developed by the PCI Security Standards Council, were put in place to minimise the risk of data theft or fraud for businesses storing, transmitting or processing customer card data.
When any individual uses a debit or credit card online, they expect their data to be protected by the given business or financial institution. Although there can never be an absolutely watertight safeguard against the occurrence of any data breach, with or without PCI DSS, the accreditation nonetheless has a vital role in encouraging businesses to carefully consider their exact manner of use of customer data.
Penalties are one major consequence of a failure to comply with PCI DSS. Security auditing could be increased, an unlimited amount of fines imposed or the e-commerce business's ability to process card transactions withdrawn altogether. However, even just the potential for reputational harm caused by a security breach could more than justify accreditation for a given merchant.
Choose PCI DSS hosting for your enterprise activities
Various e-commerce solutions exist that are accompanied by PCI DSS hosting, so that you can have peace of mind with regard to this particular aspect of your online business. The leading web design and development company Jigowatt, for example, combines its highly regarded Jigoshop WordPress e-commerce plugin with the PCI DSS hosting of Proxar - an established company with a strong reputation for designing, building and hosting websites that receive a high level of traffic.
The result is a PCI DSS hosting solution that the merchant client will find to be highly secure, reliable and scalable - not to mention high-performing - at all times of the day and night, assisting it considerably in its goal of boosting online revenue.
Subjects
---
IT