Press release
August 27, 2009
Culture
From mid September, dot-art is delighted to be hosting a collection of sculptural works and drawings by the celebrated local artist Tony Evans. He is perhaps best known for his piece "Inspiration", a huge winged horse commissioned by Liverpool Community College for their Myrtle Street centre in December 2008.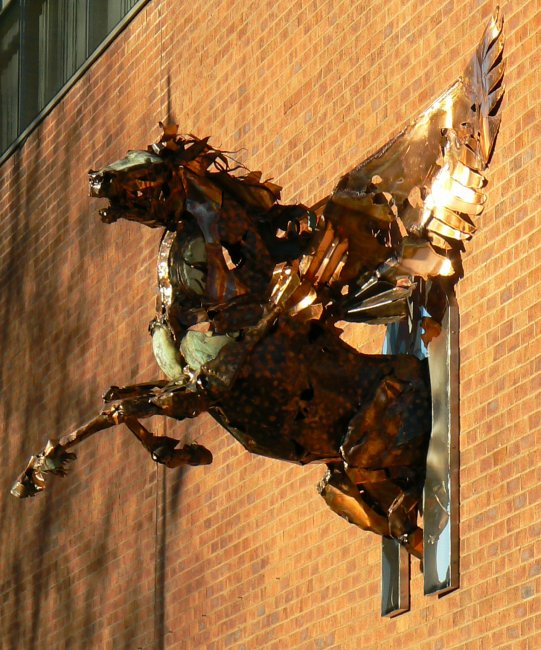 Tony specialises in animals in action using mainly copper and bronze (often recycled) and the work is a result of hours of intense concentration and physical effort. His portrayals of nature capture the spirit and the splendour of a whole menagerie of animals ranging from the simplicity of a frog to the magnificence of a life size Bengal tiger.

Born and raised in Liverpool, Tony worked for The Prudential for over 30 years before he turned to his long suppressed passion for art. At age 55 he attended Liverpool Community College where he achieved GCSE and A Levels and subsequently emerged from Wirral Metropolitan College aged 58 with a B.A. Honours Degree in Fine Art.

Since then, the artist has enjoyed huge success, with work on permanent display at The Atkinson Art Gallery, Southport and in many private collections. As well as successful local and national exhibitions, he has also been awarded a number of high profile commissions.

Tony describes the physical and emotional process of creating the work;

"After seeing in my minds eye the split second movement that I want to catch, I go through the excitement of the potential in the basic maquette and armature, satisfaction at the building and assembling stage to eventual resignation and acceptance that while it may be close to what I want, it is far short of the grace, speed or ferocity of the original concept. This, however, is what spurs me on to start again on the next sculpture. "

All work is for sale. Admission is free.

The exhibition is open to the public at dot-art, 16 Queen Avenue, Castle Street, 12-6pm Monday – Friday and by appointment, from Monday 14th September to Friday 16th October. Please see www.dot-art.com or call 0845 0176660 for more details.

-ENDS -

High resolution images available on request.


For more details, please contact:
Lucy Byrne, Director, dot-art
T: 0845 0176660 M: 07976 723796 E: [email protected]


Notes to editors.
dot-art is a Liverpool based art gallery and consultants which exists to make affordable original art accessible to all and help artists promote and sell their work.

We offer a comprehensive, flexible and affordable service to our corporate clients, from consultancy and sourcing to framing and hanging. Work can be acquired on a purchase, commission or rental basis, and can be built into wider marketing, branding or CSR objectives using a variety of bespoke approaches, including exhibitions, artist talks, promotional launches or events and staff workshops.

dot-art functions in a unique fashion, operating a membership system which gives artists a range of benefits including their own web page, exhibition and promotional opportunities, access to sales and rental avenues, as well as help and advice, networking events and discounts on art supplies and framing.


See www.dot-art.com for more information.
Subjects
---
Culture