Press release
March 12, 2009
Culture
Exhibition: 16th March - 24th April 2009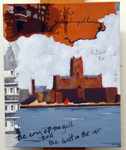 We are delighted to announce a new group show at dot-art, Queen Avenue, Castle Street; featuring work by 24 local artists. Liverpool Encore celebrates the continuation and strength of quality of Liverpool's cultural scene and achievements, through each individual artist's interpretation of the city.

The work on show, which encompasses painting, drawing and photography; has been selected to highlight the successful artists and events of 2008, but also underline the ongoing energy and cultural activity in the city and continue the momentum generated by our Capital of Culture year.

Lucy Byrne of dot-art said:

"From grand, sweeping panoramas to intricate, often overlooked details, the city of Liverpool is here in all it's glory. This exhibition is a wonderful opportunity for our artists to demonstrate the breadth of artistic talent working in the city, and to celebrate the beauty and grace of Liverpool itself."

Artists involved include: Alan McKernan, Faith Bebbington, Jane Adams, Val and Doug Robinson, David Reilly, John Sutherst, Sophie Green, Bev Evans, Colin Hutson, Stephanie De Leng, Stephen Whithead, Susan Aigelsreiter, Ken Lewis, John Ford, Simon Birtall, Richard Pryke, Frank Linnett, Susan Finch, Grahame Ashcroft, Barbara Watterson, Gary Beach, Claire McCarthy, Neil Crawford and Martin Jones.

All work is for sale, with prices starting under £100.

The exhibition is open to the public at dot-art, 16 Queen Avenue, Castle Street, 12-6pm Monday – Friday and by appointment, from Monday 16th March to Friday 24th April. Please see www.dot-art.com or call 0845 0176660 for more details.

ENDS -

Pictures available on request.

For more details, please contact:
Lucy Byrne, Director, dot-art
T: 0845 0176660 M: 07976 723796 E: [email protected]

Notes to editors.
dot-art is a Liverpool based art gallery and consultants which exists to make affordable original art accessible to all and help artists promote and sell their work.

We offer a comprehensive, flexible and affordable service to our corporate clients, from consultancy and sourcing to framing and hanging. Work can be acquired on a purchase, commission or rental basis, and can be built into wider marketing, branding or CSR objectives using a variety of bespoke approaches, including exhibitions, artist talks, promotional launches or events and staff workshops.

dot-art functions in a unique fashion, operating a membership system which gives artists a range of benefits including their own web page, exhibition and promotional opportunities, access to sales and rental avenues, as well as help and advice, networking events and discounts on art supplies and framing.


See www.dot-art.com for more information.
Subjects
---
Culture