Press release
February 22, 2013
Family
Remember the first time you tried to ride a bicycle? Helmet on, stabilisers tightly screwed on, your Mum or Dad let go and whee! Off you went! The exhilaration, the fun, the freedom, the odd scraped knee, the odd bruised shoulder, but we kept on trying because we knew that success was getting up one more time than you actually fell down.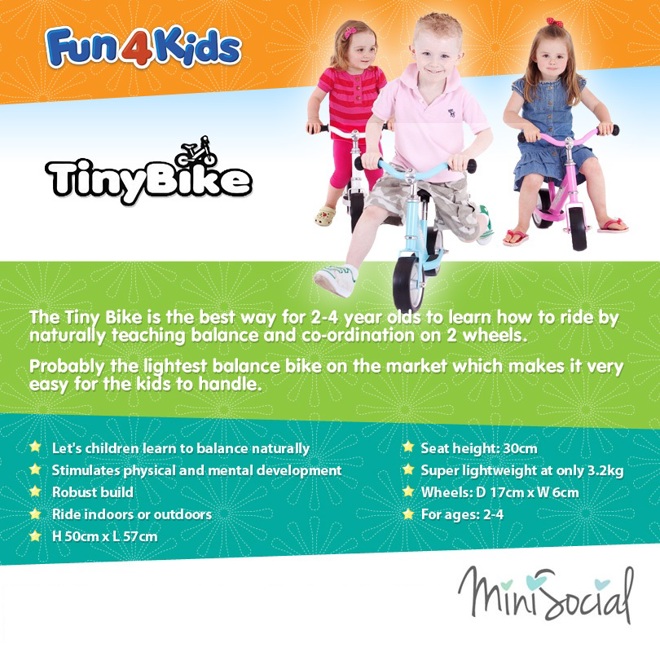 The best way for kids to learn to ride a bike is to master each skill individually. First, get the hang of balance riding without pedals. Then add steering and stopping. Only when your child can confidently balance and come to a controlled stop should the pedals be reintroduced, one by one. Stabilisers are a bit like water wings when learning to swim: a short cut to confidence but ultimately a crutch that you will have to wean your child off. And as we fast discovered, going cold turkey can be painful.

Having young children ourselves, and having experienced several times the experience of teaching children how to ride a bicycle, Mini Social is so excited to be working with the team at Fun4Kids and to introduce to our wonderful customers the Tiny Bike, the best way to teach any 2-4 year old how to ride. This tiny balance bike lets children learn naturally by experimenting with balance and riding techniques all on their own. Children are fast learners and find out quickly how the device can be moved and steered.

When pushed briefly, children instinctively learn how to reproduce this movement independently soon afterwards. The Tiny Bike helps develop a child sense of balance and stimulates their physical and mental development, improving general co-ordination.
Featuring a robust build, it is made using high quality products to withstand a great deal of wear and tear and can be ridden indoors and outdoors for hours of learning adventure.

• Let's children learn to balance naturally
• Stimulates physical and mental development
• Robust build
• Ride indoors or outdoors
• H 50cm x L 57cm
• Seat height: 30cm
• Super lightweight at only 3.2kg
• Wheels: D 17cm x W 6cm
• For ages: 2 – 4

So put the fun back into learning how to ride a bike, let's produce the next Bradley Wiggins or Victoria Pendleton, but more importantly put the fun back into learning!
Subjects
---
Family