Press release
October 27, 2009
Motor & Transport
HOME OFFICE APPROVED SYSTEM NOW AVAILABLE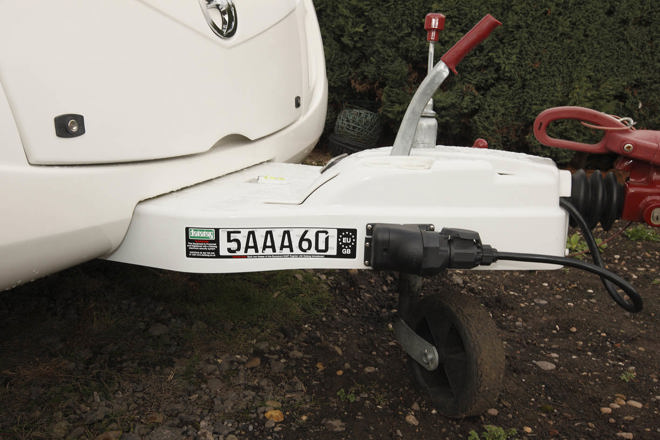 Datatag®, the market leader in security and registration, has announced a new security system for caravans and motor homes. The new Datatag system is to be distributed exclusively by Knott-Avonride Limited in association with Miriad Products Ltd, both leading suppliers of caravan and trailer components and accessories. The Datatag system has been approved by Thatcham, the insurance industry research centre, as a 'whole vehicle marking system' and its use qualifies the owner for up to 15% insurance discount from leading providers.
The Datatag electronic identification system is designed to act as both a deterrent against theft and as a powerful aid to recovery in the event of theft. The system is designed to be installed by the owner of the caravan or motor home. It is easy to install and yet effective. The Datatag system contains everything that is required and includes:
2 types of electronic transponder, each with a unique embedded identification number
New liquid forensic DNA solution containing thousands of microscopic Datadots®
2 'tamper evident' chassis plates
High quality warning labels
Registration form
High strength epoxy adhesive
Installation of the Datatag security technologies gives the caravan or motor home a unique 'fingerprint' that can be established, by the police or the insurance industry, in a number of different ways. The liquid DNA and Datadots® can also be applied to the caravans content, TV's or cookers for example. The unique identity or 'fingerprint' is virtually impossible to remove, how ever hard a criminal may try.
Hundreds of thousands of Datatag security systems are already protecting motorcycles, scooters, bicycles, quad bikes, construction and agricultural equipment, jet-skis® and boats in Europe. Plus, all UK Police Forces have been equipped Free of Charge with thousands of special Datatag scanners programmed specifically to 'read' the Datatag electronic transponders only to help provide the Police gain the upper hand to defeat the criminals and their networks.
The main benefits for the police, compared to other tagging systems, with this all new Datatag system is that they are already equipped with the scanners to conduct a roadside check and they can contact Datatag in the secure Home Office and ACPO accredited call centre at anytime of the day or night, 365 days a year. The police can establish the true identity of a caravan or its contents from the tamper evident registration numbers or the 'electronic fingerprint' or from the Datadot's and Forensic DNA even if the caravan has been modified or painted. All Datatag systems meet the 'Secured by Design' standard, the Association of Chief Police Officers preferred specification for security marking.
Chris Harrison, National Sales Manager for Datatag had this to say at the announcement: "We're pleased to be able to launch this new system, using the latest security technologies, for caravans, motor homes and their contents and we're particularly pleased to be working with Knott-Avonride Limited a respected name in the industry. Everyone is concerned about the threat of theft and our system acts as a deterrent and provides a unique identity for caravans, motor homes and their contents providing a cost effective solution to the threat".
Phil Holman - Joint Managing Director of Knott-Avonride Limited comments: "We're delighted to have been appointed by Datatag which has an excellent reputation in the security and registration market, running the official scheme in construction and agriculture, and with thousands of systems installed in the leisure market. At a time when theft is on the increase it's good to know that we're offering a convenient and cost effective solution to the problem.
This new Datatag caravan security system, which has a SRP of £79.99 (including VAT), can be ordered by contacting www.knottuk.com or www.miriad-products.com and purchased from local caravan retailers.
ENDS
Editor's notes
Datatag ID Limited, a market leader, is a privately owned British company that has operated in the security market since 1992. Its products have helped to drastically reduce the rates of stolen property. Datatag security markings and systems are widely used on motorcycles, scooters, bicycles, boats, jet skis and agricultural and construction equipment. Illustrating the effectiveness of Datatag security products the UK Crown Prosecution Service has a 100% successful prosecution record where Datatag has been used as evidence in court. Critically, Datatag provides a telephone service to the Police and its customers, 24 hours a day, 7 days a week enabling marked equipment to be identified. Datatag supply a range of security marking products including Datadots®, Datatag DNA and a variety of transponders or 'tags'. In the construction market Datatag manages the CESAR equipment registration scheme. CESAR is shorthand for the Construction Equipment Security and Registration Scheme. CESAR is supported by the Construction Equipment Association (CEA), the Plant Theft Action Group (PTAG), and the Home Office, the Association of Chief Police Officers (ACPO), major insurance companies and local authorities. CESAR is a dedicated scheme designed to significantly reduce the theft of construction equipment, both large and small, and to aid recovery in the event of theft. CESAR offers a positive opportunity for all construction and agricultural equipment manufacturers, machinery dealers, plant hirers and owners to register their equipment under a single scheme. Crucially CESAR registers equipment on the DVLA's Off Road Register (ORR) which gives the Police instant access to the data via the Police National Computer (PNC). Datatag is accredited to ISO 9000:2000 and LPS 1224 standards. Its database has "Secured by Design" status under ACPO and Home Office accreditation, one of the highest security accreditations in the UK.
Datatag® and Datadots® are registered trademarks.
For more information see the following web sites:
Image(s) © 2009 Datatag ID Limited. Permission for reproduction in connection with this press release is granted.
Issued by Dark Arts Marketing Limited on behalf of Datatag ID Limited.
Contact, John Bradley. [email protected] 01332 856323 or 07872 600 868
Or Faye Coton. [email protected] 01332 856999 or 07855 053081
Subjects
---
Motor & Transport