Press release
September 6, 2011
LAND ROVER VEHICLE SECURITY. 4 X 4 VEHICLE SECURITY. NEW DATATAG DEALER.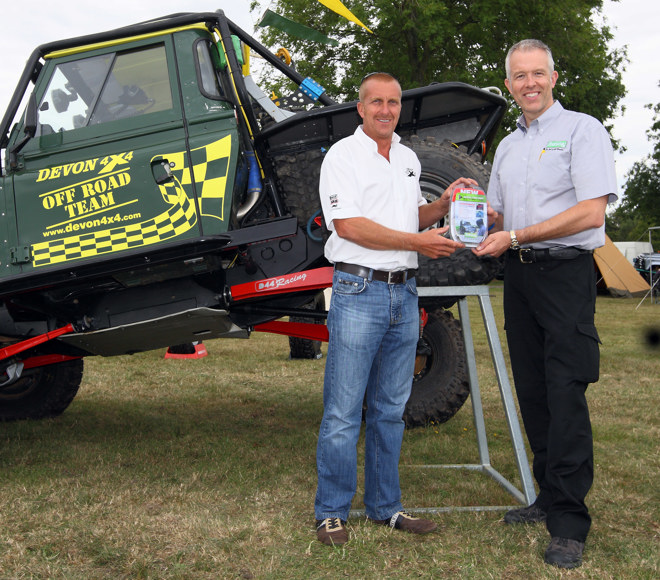 Datatag ID Limited, a leader in security marking and registration, has today announced the appointment of Devon 4x4 as an official installer of Datatag vehicle security kits.
Owned and managed by husband and wife team Simon and Liz Buck Devon 4x4 is a specialist 4x4 vehicle company, offering a complete range of services, accessories, and spares for owners and enthusiasts of all makes of 4x4 and off-road vehicles. Devon 4x4 will offer Datatag kits throughout the South West of England from their excellent base, adjacent to the A361, near South Molton, 13 miles from Barnstaple.
[Devon 4x4, Southlea Service Station, South Molton, Devon, EX36 3QU Tel: 01769 550900]
The introduction is timely as police, up and down the country, are tackling a crime wave. Thieves who sell on parts from stolen vehicles, for just a few hundred pounds, are targeting 4x4's and Land Rover Defenders, both old and new, in particular. There have been hundreds of reported 4x4 thefts in 2011 and the police are warning owners to take extra care.
Specialist car crime police officers have confirmed that Defenders are being stolen by organised and opportunist thieves who then break them up and sell on the parts. The British-built 4x4 Defender, renowned for its longevity, is a popular choice for farmers, contractors, and people living in the countryside because of its excellent off-road and towing capabilities.
The new Datatag system contains both overt and covert elements to give each vehicle a unique and multi-layered 'fingerprint' that cannot be removed by thieves. The kit has sufficient elements to mark a wide range of components and if a vehicle is stolen and stripped for parts individual components, that have been marked, can still be positively identified.
The system provides everything necessary to give each vehicle a unique 'fingerprint'. An array of 'state-of-the-art' technology is employed including Radio-frequency identification (RFID) transponders, forensic DNA, Datadots, and UV stealth etching technology. Overt warning labels are provided as a warning to would-be thieves to keep away.
The Datatag system, which has to be fitted by an approved installer, takes approximately 60 minutes to fit to the average 4x4 vehicle. Proof of ownership and proof of identity of the vehicle has to be provided by the owner before the kit can be fitted. The Datatag system secures a vehicle for life with a simple and relatively low one-off cost. There are no monthly instalments or annual fees to pay. Once the system is fitted and the vehicle registered, on the secure Datatag database, it's protected for life. If the vehicle is sold, the new owner can re-register the vehicle in his/her name for a nominal one-off cost.
The new Datatag car system has Thatcham Quality Accreditation (TQA®). TQA® is a robust verification programme for automotive products, equipment, and services. It concentrates on verifying quality in the manufacture, design, and performance of a product or service.
Police forces up and down the country are already equipped with Datatag scanners that can 'read' the hidden transponders to help identify the rightful owner even if the registration and VIN plates have been removed.
The liquid DNA and microscopic Datatdots®, which are painted around the vehicle body and on various components, are impossible to remove completely and even the slightest trace can lead to a positive identification and recovery. The liquid DNA and microscopic Datatdots® are ideal for use on the valuable components that are easy to remove from the vehicle and to sell-on. These include alloy wheels, brake rotors and callipers, engine ECU's, data loggers, and aluminium radiators and heat exchangers.
Datatag security will act as a deterrent to theft and aid in positive identification and recovery. One microscopic trace of liquid DNA is sufficient for police crime labs to positively identify the car the component came from and the rightful owner.
The uniquely numbered stencils are designed for use with the special Ultra Violet chemical etching compound that's supplied in the kit. The stencils are designed to be used on ABS (Acrylonitrile butadiene styrene) plastic components like light clusters or glove box lids. The chemical etching process will also work on painted metal and plastic components.
The Datatag security and registration system is available through a network of specialist and approved installers. The system costs £219.00 (including VAT) including fitting.
Police are advising owners to use a garage if they have one available, especially overnight, and to ensure all doors are locked and windows are closed every time the vehicle is left. Keys should be stored well away from any external doors or windows.
The police recommend Datatag systems and the CESAR scheme, for agricultural and construction equipment, that uses Datatag security systems. Insurance premium discounts are available from a number of insurers, including NFU Mutual, for vehicles fitted with Datatag and CESAR.
For more information go to: www.datatag.co.uk or www.devon4x4.com
ENDS
Image
© 2011 Datatag ID Limited-permission for reproduction, in print or on the internet, in the context of this release is granted.
Issued by Dark Arts Marketing Limited on behalf of Datatag ID Limited.
Contact, John Bradley. [email protected] 01332 856323 or 07872 600 868
Or Faye Coton. [email protected] 01332 856999 or 07977 246 292