Press release
May 21, 2010
Culture
Exclusively on COLORS, Sunday 30th May, 6.00pm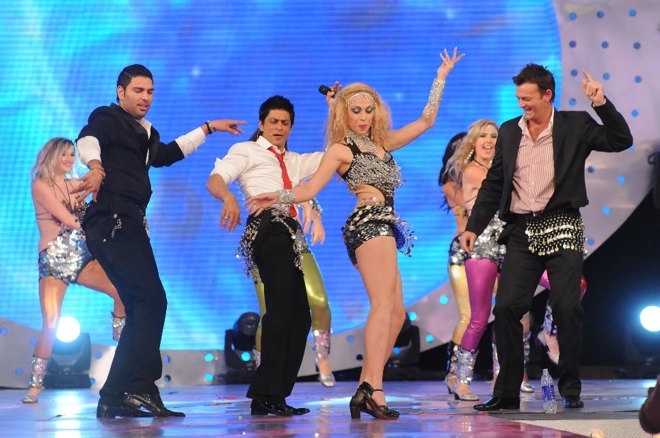 Mark the date for the most exciting awards night that unites the biggest cricket and movie stars - 'IPL Awards 2010' -to be showcased exclusively on COLORS. The award ceremony, which was held just after this year's IPL season, brought together luminaries from the Hindi film industry and cricket fraternity in their gorgeous best to acknowledge the super talented, young and established players from the cricketing world. Watch the first ever IPL Award winners accepting laurels for their hard work, only on your favorite channel, COLORSon Sunday 30th May at 6.00pm.
The hosts of the glittering evening were the ever eloquent Karan Joharalongside the stunningShilpa Shettyandthe Baadshah of Bollywood, Shahrukh Khan. Spectacular performances by the two reigning queens of Bollywood, Priyanka Chopra and Katrina Kaif, set the mercury soaring at the event. Priyanka rocked the evening with her 'Dhan-Te-Nan' act from the film Kaminey and Katrina set the stage on fire in a black sari as she performed to the 'Teri Ore'track from Singh is Kinng.
The highlight of the evening was Shahrukh's dance performance on a medley of his super-hit songs including 'Haule Haule', 'Marjani' and 'Love Mera Hit Hit' to which he made Yusuf Pathan dance along with him. He brought down the house with his witty one-liners, pranks and humorous exchanges with Yuvraj Singh, Harbhajan Singh and Australian cricketer Adam Gilchrist. Bollywood beauties, Neha Dhupia and Mugdha Godse, also kept the entertainment quotient high with their mesmerizing performances. A.R. Rahman's stirring rendition of 'Vande Mataram' was also part of the exciting line-up of performances and felicitations.
Master blaster Sachin Tendulkar was honored with the Lifetime Achievement recognition and a host of other cricketers were presented with trophies including Best Fielder, Best Bowler, Best Batsman and Best Ground. This ultimate cricketainment extravaganza was also attended by Vijay Mallya, Preity Zinta, Arjun Rampaland Samera Reddy, amongst other personalities.
Watch all the action at home when the spectacular'IPL Awards 2010'are aired exclusively on COLORSon Sunday 30th May2010 at 6.00 pm.
COLORS, India's popular entertainment channel, is available on Sky's Digital Satellite platform on Channel No. 829 on the VIEWASIA package.To subscribe, please call 08448 55 22 22.
Subjects
---
Culture