Press release
May 30, 2008
Energy & Environment
Seisma Oil Research, LLC are proud to announce the CNBC broadcast of an interview with our Texas partner EnerMax, Inc's president, Bret Boteler.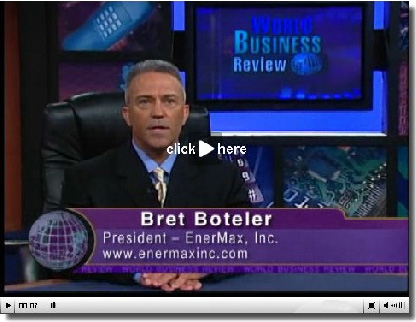 Watch the complete video here.

We are proud to announce the CNBC broadcast of an interview with our Texas partner EnerMax, Inc's president, Bret Boteler.
On June 19, 2007, General Norman Schwarzkopf, host of CNBC's World Business Review, interviewed Mr. Boteler in regard to how independent, home-grown, oil and gas companies are making a difference in domestic production. Along with co-host, Jordan Goodman, General Schwarzkopf explored what new 3-D Seismic Imaging Technologies mean to the discovery and production of valuable petroleum resources that were, until recently, not achievable. Through the use of innovative research and drilling technologies EnerMax, Inc, Seisma Oil Research, LLC's chief partner in Texas and the Gulf States, has been consistently recovering vast reserves of petroleum and gas that were beyond reach just a few years ago, despite being located in fields already proven to be quite successful.

Through their partnership agreement with Seisma Oil Research, EnerMax, is now able to fund access to greater portions of the 400 billion barrels of America's known oil resources that still remain untapped to this day. EnerMax, Inc can now accomplish more exploratory and developmental drilling, and recover more gas and oil, than was previously anticipated. EnerMax's concerted partnership with Seisma Oil Research, provides them with the necessary capital for future drilling projects. This mutually beneficial arrangement has catapulted EnerMax progressively towards the forefront of their industry niche through a trusted partnership that effectively exploits both companies proven achievements.

As the need to protect precious resources increases, forward thinking companies such as EnerMax, Inc. are providing an economical approach to oil and gas drilling. Using state-of-the-art technology, EnerMax, selects the highest quality prospects, eliminating many dry holes and recovering more resources per each well drilled. In 2005, EnerMax, and its industry partner, American Energy, Inc. (AEPI), began working with Geotrace Technologies, Inc, an industry leader in imaging and analyzing subsurface data, to reprocess 3-D data covering 2,000+/- square miles. The results of these partnerships are now showing rewards.

We invite you keep up-to-date with our partner Bret Boteler's Oil and Gas Industry blog, go here.

About Seisma Oil Research, LLC
When called upon to bring their partners preeminent and technically sound state-of-the-art oil and gas-drilling programs to market, Seisma Oil Research, LLC continues to deliver, barrel upon barrel. Seisma was conceived, engineered and placed to become a global conduit for an increasingly demanding industry. Seisma Oil Research, LLC has already surpassed its primary expectations by expanding partnerships and opening world markets and is now forging ahead within new partnerships and associations.
Through their unique brand of corporate management they are able to offer opportunities to prospective investors that have, until their arrival in the market place, been historically unattainable by many of their partners around the globe. Supported by decades of executive experience, industry knowledge and relationships and the best technology on offer, Seisma Oil Research, LLC continues to develop and expand their partnerships and portfolio of energy focused investments.

Seisma's principal responsibility to its investors is to intelligently acquire, operate, explore, exploit and develop oil and gas properties. Their portfolio includes production, exploration, pipelines and water rights, with a new value added emphasis on renewable energies such as ethanol and bio diesel they continually strive to be among the cutting edge this industry's leaders.

Seisma's operations are carried out predominantly in the Mid-Continent Region, Permian Basin, and Gulf Coast/Gulf of Mexico. Their partners are positioned around the globe, and by having preferential access to Seisma's research they are enabled to actively participate in Seisma's growth. Their success is wholly based on the enthusiasm, commitment, and talent of our people. The ethos of our corporate culture is one of integrity, innovation, accountability and team effort.
Subjects
---
Energy & Environment
Bret Boteler of EnerMax, Inc. on CNBC
Download | 0.07 MB | 322 x 416 | .jpg
Zip and download all files