Press release
September 30, 2011
Energy & Environment
A Cincinnati Zoo has become one of the most environmentally friendly tourists attractions by installing 6000 Solar Panels to create their energy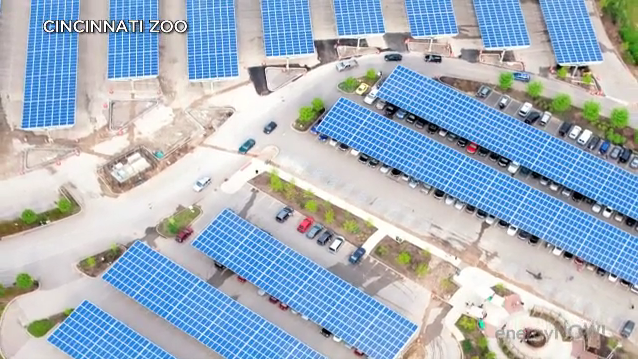 The famous tourist attraction, Cincinnati Zoo; is pulling in the crowds this year however, it's not just the new monkeys or the huge elephants that are the main attraction; it's the 6000 newly installed solar panels which, are acting as a roof over the car park. The size of it is astounding and people are in awe of this impressive sight. What was more impressive was that the Zoo had the Solar Panels fitted for free!
Cincinnati Zoo being one of the latest successful projects, like many others; property owners link up with investors, the owners being may not be in a position to pay the price of the installment of solar panels. By linking up with investors, the installation of Solar PV is paid for and the property owners see the difference in their energy bills.
The Zoo is now one of America's most environmentally friendly attraction, but also a massive cost saver too. While the solar panels can create 1.5megaWatt of electricity, which adds up to a fifth of the zoo's electricity needs, therefore when the weather is at its sunniest, the zoo does not need the power off the solar panels, whereas on a cloudy day all the zoo's power can be used off the actual grid. Energy bills at the Zoo have been reduced to 0 which, is very impressive for the owners of the Zoo.
The multi million pound project was funded by many different investors, which charge the zoo around 10c per kW hour at a fixed price, which is around what the zoo would have been paying the utility company, but as energy bills increase over the years, the Zoo can potentially save millions.
Solar PV leasing is now available in the uk; available for homeowners who want to save money and energy and are prepared to rent their roof to a Solar Company. For homeowners who are considering the installation of free solar panels there are strict criteria that must be met so it is advisable to source a reputable company as there are many cowboys within the solar market.
As time goes on, the investors of Solar Leasing and companies that do solar, are hoping that the more people see solar panels around, the more they want to become involved and install it themselves; wanting to become part of the 'greener' society.
The Zoo's parking Solar roof, impresses people every day and 1.3 million people park under it every year.
Contacts
---
Subjects
---
Energy & Environment