Press release
June 4, 2008
How many people remember an important birthday just at the last minute? E-cards have made it possible to send an instant greeting and now, thanks to internet retailer Chocolate Now!, you can go one better and send instant gifts over the internet.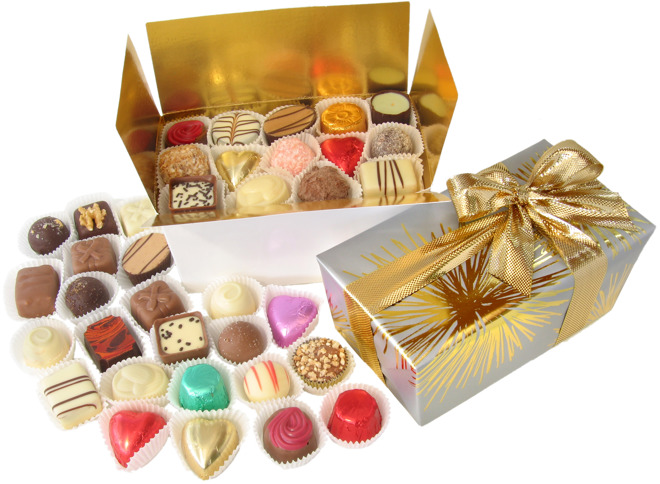 Chocolate Now! have announced a new way of giving instant gifts over the internet. Their innovative "e-chocs" work a little like a gift voucher - the purchaser pays for the gift, but the recipient can then choose exactly what chocolates they want in the box. Chocolate Now! boss Nigel Croft explains, "We offer a unique service, creating each box of chocolates to the customer's exact specification. Why pay good money for a chocolate selection and always have two or three left that nobody likes?"

Using the Chocolate Now! website (www.chocolate-now.co.uk), the purchaser chooses the size of box, and selects a gift wrap style, from a range of over 25 unique designs. They can then include a personal message and, once payment is made, an email is sent to the recipient telling them they have received an e-gift, and explaining how to claim it.

The person receiving the gift then selects their chocolates online (from over 40 mouth-watering Belgian chocolates) with just a few clicks of their mouse until the box is full.

Once the chocolates have been chosen, the box is packed and gift wrapped by hand, and sent out by the next available post - usually arriving the following day.

For people concerned about allergies, there is also the option of seeing detailed ingredients information available for each chocolate. Croft says, "We find an increasing number of our customers are demanding to know exactly what is in the food they eat. I believe we are currently the only online chocolate shop which offers this level of information."

Dave, a frequent customer at Chocolate Now!, commented, "This is a really good idea as, for my previous gifts, I have copied the chocolate selection page, e-mailed it to my Mum, and asked her to choose. There is nothing worse than have chocolates that you don't like in the box is there?"

A unique feature of all Chocolate Now! products is the wide range of design-led gift wrap options available. "Convenience is a growing trend in the gift sector, many consumers opting for a gift bag, rather than wrapping their presents," says Croft. "This service saves a lot of time, particularly when ordering online, because it allows the completed gift to be sent direct to the recipient."

In addition to e-chocs, Chocolate Now! also offer "self-select" boxes, where the purchaser can create their own chocolate selection, or for people in a hurry, there is also a range of standard selections. They also supply wedding favours and corporate gifts. You can buy their chocolate gifts online at www.chocolate-now.co.uk

About Chocolate Now!:
Chocolate Now! is a UK based internet retailer, specialising in luxury chocolate gifts. They deliver to the UK and Western Europe.

Any publication wishing to offer an exclusive 15% discount to their readership should contact Chocolate Now! for a promotional code. Additional product images are available at www.chocolate-now.co.uk/press