Press release
November 24, 2009
Culture
A British actor has achieved a long-held ambition to publish an audio book of short stories by one of the greatest Russian writers of the 19th century, Anton Chekhov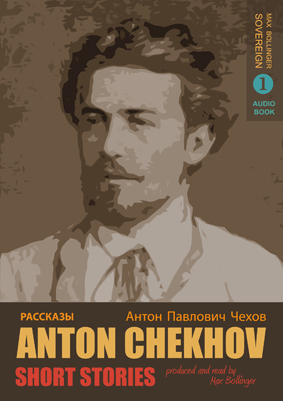 The CD, entitled Short Stories by Anton Chekhov, has been collated and narrated in English by Max Bollinger, a Russian-born actor, writer and producer.
It is the product of several years' work by 34-year-old Max, who has appeared in Doctor Who and was narrator in Twentieth Century Battlefields and Space Race.
The 64-minute CD, produced by Max Bollinger Interactive Media, features six short stories by the master of Russian drama: A Tragic Actor; In A Strange Land; Oh! The Public; The Looking Glass; Her Husband; and Overdoing It.
"I rediscovered Chekhov in England after having read his short stories in English," explained Max, who is fluent in both Russian and English.
"I felt like Chekhov's texts started to speak to me. I found his words so agile, so relevant, and so enigmatic, that I could not stop.
"It was like some magic book written in code suddenly opening up and transforming into beautiful gleaming stream of light.
"Chekhov's writing is full of enlightenment, wisdom and humour that I made it a personal goal to bring these stories to anyone seeking light and truth. It took me several years to put this project together."
Max said that getting the text absolutely correct was paramount.
"When I started recording the first several stories, it had become apparent that no cheating was allowed with Chekhov's texts," he said. "Every single word had to be it its rightful place."
He said it was vital he honoured Chekhov's original literary vision.
"The texts have what critics often describe as 'layers', each character in his story, like in real life, is not just one or two-dimensional," he explained.
"Chekhov often created names and surnames of his characters, as well as locations, with additional meaning encoded within those words, so I made it a point to add those layers where possible and make the experience as it was indented by him."
Major release of Short Stories by Anton Chekhov from Max Bollinger Interactive Media, is being released in the UK on November 30, 2009.

Anton Pavlovich Chekhov (Антон Павлович Чехов) - was born in 1860 and died in 1904. Considered one of the greatest short story writers ever, Chekhov wrote classics including The Seagull, Uncle Vanya, Three Sisters and Cherry Orchard.
Max Bollinger Interactive Media is a boutique publisher and production house for digital content including e-learning, games, audio drama and corporate digital content. Pioneering innovative methods of learning, entertainment and distribution of interactive content.
Amazon | Alibris | Biblio | Waterstone's | Foyles | Blackwell's | WHSmith
Subjects
---
Culture